"The Lannisters had taken everything: father, friends, home, hope, courage…"
Synopsis: Arya and co. meet Ser Gregor, the Tickler, Raff the Sweetling, Chyswick, Weese, and the rest of the gang on the road to the Happiest Place in Westeros.
SPOILER WARNING: This chapter analysis, and all following, will contain spoilers for all Song of Ice and Fire novels and Game of Thrones episodes. Caveat lector.
Political Analysis:
If we got glimpses of the impact of the War of Five Kings on the smallfolk of Westeros in Arya's travelogue with the Night's Watch, here the audience's view is directed (almost compelled, a la Clockwork Orange's Ludovico Technique) to stare at the thing itself, with Harrenhal standing in as the world's most hideous stage for Gregor Clegane's avant-garde theater. The horrors of war are here brought into lurid, baroque detail in a way that genuinely sticks with the reader long afterward, even in a series not exactly sparing in gore and human misery.
Needless to say, this recap (and indeed, many of the succeeding Arya recaps in ACOK) will deal frankly with some deeply distressing topics – torture, slavery, rape as a weapon of war, other forms of war crimes, concentration camps – so consider yourself thoroughly warned.
The Meaning of Torture
So far in ASOIAF, we've seen some nasty murders and mutilations, but it's not until this chapter that we really engage with the topic of torture – and of course, what makes this all so shocking is that George R.R Martin has chosen to address this topic through the POV of a young child. To give GRRM credit however, he doesn't do it in a pornographic or exploitative way (a la the Saw or Hostel films), but rather to make some serious points about the nature of torture and its impact on the human psyche:
The Mountain would come into the storehouse after he had broken his fast and pick one of the prisoners for questioning. The village folk would never look at him. Maybe they thought that if they did not notice him, he would not notice them…but he saw them anyway and picked whom he liked. There was no place hide, no tricks to play, no way to be safe.

One girl shared a soldier's bed three nights running; the Mountain picked her on the fourth day…a smiley old man mended their clothing…the other captives began to call him All-for-Joffrey…All-for-Joffrey was picked on the fifth day. A young mother with a pox-scarred faced offered to freely tell them all she knew if they'd promise not to hurt her daughter. The Mountain heard her out; the next morning he picked her daughter…
Note that the actual depiction of torture is completely avoided – in part, this is an artistic technique, because nothing is as terrifying as the human imagination allowed to run riot in contemplation of the unknown, but it's also meant to draw our attention not to what's being done to the human body, but the impact of torture on human behavior. Here we see humans trying to create some kind of meaning of their experience as a route to survival – can deference and avoidance shield you, can political loyalty shield you, can offering your body shield you, can informing on others shield you? My mind here goes straight to stories of the Holocaust, and the way in which people went to extraordinary lengths to survive, but also create some form of cause-and-effect that they could understand, and the way all of those understandings shatter against the wall of a totalizing system. And we see this here redone in miniature – the Mountain is (perhaps deliberately?) eliminating every theory of meaning, every strategy for survival, and thus induces a profound state of learned helplessness. If death and pain follow no logical path, if defiance and submission produce the same result, then human endeavor becomes meaningless.
The second theme that torture brings up is a strong emphasis on the banality of evil. Consider the Tickler:
A man the others called the Tickler asked the questions. His face was so ordinary and his garb so plain that Arya might have thought him one of the villagers before she had seen him at his work…At times she could almost forget he was still with them; when he was not asking questions, he was just another soldier, quieter than most, with a face like a thousand other men.

Ser Gregor himself would stand motionless, watching and listening, until the victim died…
The contrast between the Tickler and his master is a sharp one – Ser Gregor is by design larger than life, but the real architect of pain is his total opposite, a complete non-entity. And that's why he's important. The Tickler is not an orc. He's not even a Ramsay Snow or a Joffrey. The capacity to commit the acts that he commits, and just as importantly the capacity to turn off one's conscience and turn evil into a mechanism, dwells within the human heart. And in order to make this point stick, GRRM had him stand back from the scene, oddly passive and remote. This is a man we associate with terrible, but also deeply physical and active, deeds – the mutilation of his brother, the murder of his family and his wives, the personally-conducted destruction of Elia and Aegon, the use of his bare hands with Oberyn Martell. And yet here, he just chooses and watches, seeming to take no pleasure or have little motivation for his actions.
There's a similar disconnect, a pointless and uselessness reminiscent of Orwell or Kafka, to the questions being asked:
The questions were always the same. Was there gold hidden in the village? Silver, gems? Was there more food? Where was Lord Beric Dondarrion? Which of the village folk had aided him…where did he go? How many men were with them?…by the third day, Arya could have asked the questions herself.

They found a little gold, a little silver, a great sack of copper pennies, and a dented goblet set with garnets…they learned that Lord Beric had ten starvelings with him, or else a hundred mounted knights; that he had ridden west, or north, or south; that he crossed the lake in a boat; that he was strong as an aurochs or weak from the bloody flux. No one ever survived the Tickler's questioning; no man, no woman, no child. 
On the surface, there seems to be a parallel here between the agenda of the Tickler and Ser Gregor and the practices of the Nazis in trying to repress the various resistance movements in Occupied Europe. However, underneath that, neither man seems that interested in actually producing results. Interrogating civilians about the inner workings of a guerrilla movement; interrogating starving refugees about hidden wealth, repeated again and again; this comes close to the apocryphal definition of insanity  attributed to Albert Einstein. And I think this points to both the moral evil and the pointlessness of Tywin's strategy in sending them in the first place – they're not actually eliminating resistance in the Riverlands, they're helping to bring into existence.
Hence the reason why Ser Beric Dondarrion and Thoros of Myr re-enter the story here without being present, in the same way that Stannis Baratheon is a presence throughout A Game of Thrones long before he appears on the page. These two men, rightfully considered heroes of the smallfolk, are introduced through the actions of their enemies, to explain why people would follow them, believe in them. As one peasant says, the difference between Ser Beric and his nemesis Ser Gregor is stark: "Lord Beric did us no hurt, though…and that red priest with him, he paid for all they took." Obviously, GRRM will complicate this Robin Hood vs. the Sheriff of Nottingham story – no resistance movement is morally spotless – but our sympathies are clearly meant to be on one side and not the other.
Arya's Prayer and The Revolt Against Learned Helplessness
All of these events have a profound impact on Arya Stark's psychological development. And this is one of the reasons why I take exception to statements that "Arya is a sociopath." According to the DSM,
"A mental disorder is not merely an expectable or culturally sanctioned response to a specific event such as the death of a loved one. Neither culturally deviant behavior (e.g., political, religious, or sexual) nor a conflict that is primarily between the individual and society is a mental disorder unless the deviance or conflict results from a dysfunction in the individual, as described above."
In other words, deep feelings of sorrow shortly after the loss of a loved one, or intense feelings of worthlessness after a major life setback aren't normally signs of a mental disorder; feeling deep sorrow unconnected to any change in one's life, or intense worthlessness when one is experiencing professional and personal success might be. From the end of AGOT through ASOS, Arya Stark undergoes a constant series of shocks with almost no letup – the murder of her father, a violent fight for her life in the holdfast by the Gods' Eye, the death or abandonment of all adult figures of her life, and now persistent scenes of torture and death.
Thus, I would argue that Arya Stark's desire to kill is not a reflection of underlying sociopathy is much more a response to a specific traumatic event (or series of events), an attempt to re-assert control over her surroundings and her self. (Also, sociopathy is normally a persistent condition that emerges early in childhood development, rather than being associated with a sudden break or traumatic event) Consider her initial state of mind in this chapter (including the quote from the beginning of the analysis):
One had taken Needle, while another had broken her wooden stick over his knee. They had even taken her stupid secret…

What good did it do you to be brave? One of the women picked for questioning had tried to be brave, but she had died screaming like all the rest. There were no brave people on that march, only scared and hungry ones. 
Here, we see intense feelings of helplessness tied to a loss of any form of protection and privacy. Now compare that to her first prayer:
She hated Polliver for Needle, and she hated old Chiswyck who thought he was funny. And Raff the Sweetling, who'd driven his spear through Lommy's throat…she hated Ser Amory Lorch for Yoren, and she hated Ser Meryn Trant for Syrio, the Hound for killing the butcher's boy Mycah, and Ser Ilyn and Prince Joffrey for the sake of her father and Fat Tom and Desmond and the rest, and even for Lady, Sansa's wolf. The Tickler was almost too scary to hate.

…Every night Arya would say their names. "Ser Gregor," she'd whisper to her stone pillow. "Dunsen, Polliver, Chiswyck, Raff the Sweetling. The Tickler and the Hound. Ser Amory, Ser Ilyn, Ser Meryn, King Joffrey, Queen Cersei…there were no gods on the road to Harrenhal, and her names were the only prayer she cared to remember."
Here, there's a sense of order and ritual in the repetition. Each name corresponds with a grievance, each effect with a cause – and it clearly gives Arya the peace of mind needed to cope, to survive, to keep going. But there's more to this than a mere survival strategy. Well before the truth of Jaqen H'ghar is known, well before Arya learns the origin story of the Faceless Men at the House of Black and White, here we have a prayer by a slave, a single voice in the dark of the night demanding some kind of justice. And Him of Many Faces is always listening…
Harrenhal and the Thin Places
And finally, after what is quite literally a torturous interval, Arya finally arrives at her destination, the great fortress-monument that is Harrenhal:
Harrenhal was deceptive from afar, because it was so huge. Its colossal curtain walls rose beside the lake, sheer and sudden as mountain cliffs, while atop their battlements the rows of wood-and-iron scorpions looked as small as the bugs for which they were named.

The stink of the Lannister host reached Arya well before she could make out the devices on the banners that sprouted along the lakeshore, atop the pavilions of the westermen. From the smell, Arya could tell that Lord Tywin had been here some time…Harrenhal's gatehouse, itself as large as Winterfell's Great Keep, was as scarred as it was massive, its stones fissured and discolored. From outside, only the tops of five immense towers could be seen beyond the walls. The shortest of them was half again as tall as the highest tower in Winterfell, but they did not soar the way a proper tower did. Arya thought they looked like some old man's gnarled, knuckly fingers groping after a passing cloud. She remembered Nan telling her how the stone had melted…

"I don't want to go there," Hot Pie squeaked as Harrenhal opened its gates to them. "There's ghosts in there."
And what fine ghosts they are. I really begin to suspect that George R.R Martin invented Harrenhal for the sole purpose of having a place to let him tell ghost stories (same thing with the Nightfort), and he really has made use of it. The death of Harren the Black and all his heirs in the Kingspyre, House Qoherys' end with the murder-by-castration of the loathsome Gargon "the Guest" at the hands of Harren the Red; the rise and fall of House Harroway all bound up in the marriage and pregnancy of poor Alys Harroway; the murderous bloodshed (again at the behest of Maegor the Cruel) that gave rise to House Towers; the doomed Atreus-like House Strong and their end by fire and execution; House Lothston's evil reputation, between Lucas "the Pander" (who pimped out his wife and daughter both for a castle and the Handship), Manfryd "o' the Black Hood" (I'm picturing a rather Gregor-like gruesome knight errant), the doubly-treasonous Manfred, the sorceress Mad Danelle, seems well earned; the Whents who both served and overthrew the Lothstons …and all this before the narrative of ASOIAF begins.
In the fantasy and horror genres, there is this idea that there are some places where the weight of human suffering compounded over time weakens the boundaries between this world and the next. Whether you call it "soft places," or "the deadlands," the battlefield of Mengedda in R. Scott Bakker's Prince of Nothing, the Blight of Dragon Age, etc. clearly Harrenhal is one of those places. And it has a kind of narrative gravity to it that characters must struggle to escape, lest they be trapped in Harrenhal forever. As we will see.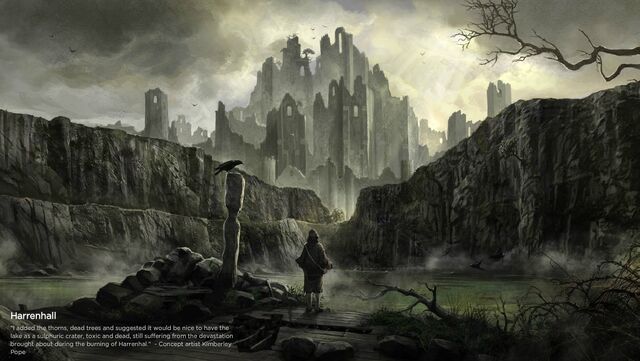 "Treason" and "Obedience"
Finally, once they arrive in Harrenhal, the captives learn about why they've been brought here:
They were being taken to serve Lord Tywin Lannister at Harrenhal, the Mountain told them. "You're traitors and rebels, so thank your gods that Lord Tywin's giving you this chance. It's more than you'd get from the outlaws. Obey, serve, and live."

"It's not just, it's not…we never did no treason."
Now there's been a lot of talk about whether Tywin Lannister's actions in the Riverlands go beyond the norms of Westerosi warfare, and in this case it's bound up by the tricky question of the nature of Westerosi feudalism: if the smallfolk of Westeros are chattel, as Viserys claims they are, then Tywin's actions are perfectly legal. As the Hand of the King who has declared the Whents traitors and rebels and seized Harrenhal, he has the right to control where his property live and work. However, as I think I've demonstrated in the essay linked above, this is not the case. The smallfolk of Westeros are not thralls, they are free people with legal rights – as the refugees themselves prove through their objection to the treatment.
By enslaving them to work on the rehabilitation of Harrenhal, Tywin has violated one of the oldest customs of Westeros – again, in order to achieve an immediate aim (and because he doesn't see smallfolk as people). And the logic by which he justifies his actions is reminiscent of many different counter-insurgencies, where mere location on the battlefield marks one as an enemy combatant – despite the fact that it is Tywin who brought the battlefield to them. No wonder that the smallfolk stubbornly support the Brotherhood Without Banners, no wonder that the Sparrows movement absolutely hate the Lannisters.
And what makes it worse is the way in which Weese makes their enslavement seem like a privilege:
"The Lannisters are generous to those as serve them well, an honor none of your sort deserve, but in a war a man makes do with what's to hand. Work hard and mind your place and might be one day you'll rise as high as me…I can smell defiance, I can smell pride, I can smell disobedience."
Interestingly, it's here that we begin to see Arya and Sansa inhabiting quite similar worlds. Since Arya IX, the two of them have been mirrors: Arya looks away, Sansa watches; Arya is exposed to the war but protected by friends, Sansa is sheltered from the war's privations, but exposed to the private brutalities of Joffrey. But here, the two are absolutely one – both of them prisoners of the Lannisters, having to hide their true selves in a show of submission. But, as I'll explain in the next Arya and Sansa chapters, the divergence to come is that Arya and Sansa will be faced with an offer from truly different unlikely champions. Sansa gets a pair of alcoholic non-knights who, ultimately, can't really do much for her. Arya gets a murder genie.
Historical Analysis:
As I've stated before, there's something kind off about Tywin's behavior here. Medieval European warfare didn't usually involve the mass enslavement of peasants. Peasants were generally tied to the land, and you fought over who controlled the land – even in the case of chevauchées, the point was to rob and murder, not enslave, if only because a medieval army would generally have problems feeding, housing, and generally corralling them. (Which raises the question…given that Tywin is trying to feed an army of 15-20,000 men through foraging…why would he make his supply situation worse by kidnapping large numbers of peasants?)
If there is a historical parallel here, it might be in the "refeudalization" of Poland in the 16th and 17th centuries. As with much of Western Europe, serfdom had been on the decline in Poland since the Black Death of the 14th century, which greatly disrupted the system of unfree landholding and noble dominion. However, unlike in much of Western Europe, where the Early Modern period saw the continued challenge of the commons to elite domination – the German Peasants' War of of 1524-5; the English Civil War, the English Republic and the "Glorious Revolution" of 1688 leading to a decidedly parliamentary monarchy; the Dutch Revolt and the establishment of the Dutch Republic – in the 16th and 17th centuries, the nobility of Poland re-asserted comprehensive controls over the peasantry. Forced labor on the lord's land, formerly converted to cash rents and other payments, was now demanded as an active corvée; peasants were denied freedom of movement and forced to ask their master's permission to travel off their land; in some cases, peasants were literally bought and sold.
Accompanying the refeudalization of Poland was a drive to export wheat to Western Europe in massive quantities, often by simply reducing the living standards of the Polish peasantry. Some scholars have argued, in fact, that much of the explosive economic development of Western Europe in this period, the rise of the great commercial powers of Britain and Holland, the emergence of the European bourgeoisie and their ideas of an Enlightenment, could not have happened had the Polish aristocrats not beggared their own people to afford a series of losing wars with the Russians, Swedes, Ottomans, Cossacks, and so on and so on.
The point being, Tywin's in really bad company here.
What If?
There's not really much scope for hypotheticals in this chapter, but man I cannot wait for Arya VII's What If? section.
Book vs. Show:
First, let me get my one complaint out of the way: Ian Whyte is a fine actor who's done some amazing physical work on Game of Thrones (he was the White Walker in the pilot episode, and played one of the giants in Season 4, Episode 9), but he simply did not work as Gregor Clegane. Part of this has to do with his physique – Ian Whyte is tremendously tall (7'1"), but he has the build of a basketball player (in fact, he played basketball in college and professionally in Europe) and not a linebacker. Part of this has to do with costuming – the strange decision to get rid of the blunt, crude smokestack helmet and huge, Warhammeresque pauldrons that gave Conan Stevens such bulk in favor of a stripped down look that emphasized his lanky frame, and a bog-standard Lannister helm.
However, part of it also has to do with a choice in direction, where the actor and director David Nutter decided to play him as emotionless as possible. While this is an understandable choice, and arguably fits much of the material, it's not a very cinematic choice and it meant that Gregor Clegane never had the visceral presence in Season 2 that he had in Seasons 1 and 4. Indeed, I think it accentuated the shock from the recasting – had Conan Stevens, who the audience had seen execute a horse the previous season, done the same thing, I think it might have worked better.
On the other hand, this is my only complaint. The translation of the misery of Harrenhal worked absolutely perfectly, and Maisie Williams really began to lay in the foundations of a deeply traumatized character that by the end of Season 4 was completely chilling. The use of the rat bucket to visualize the Tickler's torture – and the narrow rescue of Gendry – was a nice Orwellian touch.
And the show's choice of direction once Arya gets to Harrenhal – oh, I can't wait to discuss that next time.