"He remembered the pail Lady Catelyn had kicked over in his cell. A strange woman, to trust her girls to a man with shit for honor."
Synopsis: Brienne takes Jaime and Ser Cleos down the river, where they are almost caught by Ser Robin Ryger.
SPOILER WARNING

: This chapter analysis, and all following, will contain spoilers for all Song of Ice and Fire novels and Game of Thrones episodes. Caveat lector.
Political Analysis:
From the vantage point of sixteen years, and two (hopefully soon to be three) books later, it's somewhat hard to remember how revelatory this chapter was back in 2000 when A Storm of Swords was first released. Theon I in ACOK was the first instance of a former secondary character turning into a POV character – and in retrospect, we can also see it as a trial run for George R.R Martin for trying to make an unsympathetic POV engaging, so that we care when their tragic fall takes place. Theon, however, was only a minor character in AGOT, and one on the side of the Stark protagonists to boot.
Jaime Lannister, by contrast, was not only a major character from the very beginning, but was arguably one of the biggest villains in the series to date. It was Jaime Lannister who flung Bran from the tower, who attacked Ned in King's Landing, and whose defeat by Robb is the major Stark victory to date. And here GRRM drops us inside his head and keeps us there for nine chapters in ASOS alone. Also, GRRM decides to go with a somewhat different path with Jaime – while Theon's story in ACOK ends with him getting his comeuppance, here he puts the comeuppance relatively early in Jaime's story so that the story becomes about how Jaime struggles to redefine himself in the aftermath.
And so while the cudgel of empathy is still in full effect, it works differently in this case – whereas in Theon's case the point seems to be that vicariously wishing harm to people, even people who've done horrible things, ultimately rebounds upon us all, here the emphasis is on the way that empathy created through suffering can have an educational effect. As we experience his POV and especially his memories of the past, we begin to learn more about who Jaime is as a person, and our sympathies change because of this hard-won knowledge. At the same time, it is only because of his suffering that Jaime finally begins to interrogate himself, to ask who Jaime Lannister is besides a sword hand and how his past decisions have brought him to this place. In this fashion, Jaime eventually learns the lessons of Aeschylus, who wrote:
"Zeus, who guided mortals to be wise,
has established his fixed law—
wisdom comes through suffering.
Trouble, with its memories of pain,
drips in our hearts as we try to sleep,
so men against their will
learn to practice moderation.
Favours come to us from gods
seated on their solemn thrones—
such grace is harsh and violent."
The Man Who Learned Nothing
But before he undergoes his cruel education, before we can get to the moment of empathetic reversal, we first get pure and unfiltered Jaime Lannister. And what is hard to remember from the vantage point of a re-reader is how incredibly unpleasant early Jaime POVs are; this is a man who is profoundly arrogant, selfish, and self-absorbed. We could already tell this from Catelyn VII of ACOK, but when you can see what he's thinking, it's even worse.
So let's start from the very beginning of the chapter, where Jaime is reflecting on having been freed by Lady Catelyn. On the one hand (hee!), we share in the sheer joy of his liberation from shackles:
He wore iron manacles on his wrists and a matching pair about his ankles, joined by a length of heavy chain no more than a foot long. "You'd think my word as a Lannister was not good enough," he'd japed as they bound him. He'd been very drunk by then, thanks to Catelyn Stark. Of their escape from Riverrun, he recalled only bits and pieces.

The wine had made him sleepy, and it felt good to stretch, a luxury his chains had not permitted him in the cell. Jaime had long ago learned to snatch sleep in the saddle during a march. This was no harder. Tyrion is going to laugh himself sick when he hears how I slept through my own escape. He was awake now, though, and the fetters were irksome. "My lady," he called out, "if you'll strike off these chains, I'll spell you at those oars."
The desire for freedom is a profoundly human emotion, and it is at the very heart of Jaime's storyline in ASOS; from this chapter through Jaime VI, he'll be either trying to escape, getting recaptured, or negotiating for his freedom, and then from Jaime VII through IX, he'll be trying to escape the constraints of his family and his former identity. At the same time, we also begin to learn the way in which Jaime uses humor to hide the truth from others and from himself – for example, how his jest about his word not being enough resonates with his deep insecurity over his honor, or when he thinks about joking with Tyrion about his escape to mask how deeply he resents his imprisonment – enough to engage in some profoundly self-defeating actions later on.
On the other hand, however, Jaime's blase attitude toward his liberation makes it feel entirely unearned. And this gets even worse when he starts to think about Catelyn's actions and we learn for the first time how he perceived their interactions in Catelyn VII:
They'd all done a deal of vowing back in that cell, Jaime most of all. That was Lady Catelyn's price for loosing him. She had laid the point of the big wench's sword against his heart and said, "Swear that you will never again take up arms against Stark nor Tully. Swear that you will compel your brother to honor his pledge to return my daughters safe and unharmed. Swear on your honor as a knight, on your honor as a Lannister, on your honor as a Sworn Brother of the Kingsguard. Swear it by your sister's life, and your father's, and your son's, by the old gods and the new, and I'll send you back to your sister. Refuse, and I will have your blood." He remembered the prick of the steel through his rags as she twisted the point of the sword.

I wonder what the High Septon would have to say about the sanctity of oaths sworn while dead drunk, chained to a wall, with a sword pressed to your chest? Not that Jaime was truly concerned about that fat fraud, or the gods he claimed to serve. He remembered the pail Lady Catelyn had kicked over in his cell. A strange woman, to trust her girls to a man with shit for honor. Though she was trusting him as little as she dared. She is putting her hope in Tyrion, not in me.
This last paragraph makes it quite clear that Jaime has no intention of carrying through with his promises; he's already thinking about ways to wriggle out of his oath by claiming it was made under duress and while not of right mind, and pointing out that his (quite Tywin-esque) atheism means that any religious bindings won't hold him. And last of all, Jaime uses his rebel goth identity as the "man with shit for honor" to imply that, having broken one oath once in his life, no other oaths are binding on him, which is pretty similar to how children use crossed fingers behind their backs and Freys use "mayhaps" to argue that the social contract shouldn't count for them.
At the same time, Jaime's oath is quite interesting. He's making promises that he doesn't necessarily have the power to carry out, namely that he "will compel your brother to honor his pledge to return my daughters safe and unharmed." Even if Tyrion hadn't fallen from power and was thus no longer able to free the Stark daughters, Jaime has no authority to compel the Hand of the King to do anything, let alone fulfill a pledge that was made in bad faith to begin with.
I'll talk more about whether Jaime actually does keep his oath in future chapters, but I also want to talk about what he swears by. We know that Jaime doesn't care about the Old Gods or the New, and he thinks very little for his honor "as a knight…as a Lannister…[or] as a Sworn Brother of the Kingsguard." The one thing he does care about, though, the only thing he cares about, is his family. And it's interesting that of the three lives he swears by – "your sister's life, and your father's, and your son's – two will die before the book is over, and the third is prophesied to die at his hands. It does make you wonder whether GRRM the fates think he's kept his promise or not.
A Question of Redemption
Speaking of whether Jaime's earned his liberation, one of the things that has always held me back from getting on board the idea that Jaime Lannister is on the road to redemption, is that he doesn't really seem to have grappled with the moral consequences of his past actions:
"I have no words for monsters."

Jaime hooted. "Are there monsters hereabouts?"

"…A man who would violate his own sister, murder his king, and fling an innocent child to his death deserves no other name."

Innocent? The wretched boy was spying on us. All Jaime had wanted was an hour alone with Cersei. Their journey north had been one long torment; seeing her every day, unable to touch her, knowing that Robert stumbled drunkenly into her bed every night in that great creaking wheelhouse. Tyrion had done his best to keep him in a good humor, but it had not been enough.
We knew already that Jaime is quiet blasé about trying to kill Bran, but now we know why he did it. And contrary to a lot of fanon conceptions, he didn't do it because he was afraid that the boy would expose his secret or that his children with Cersei were in danger. He did it for no other reason than Bran interrupted his "special time" with his sister, and he was in a bad mood because he hadn't gotten laid in a while. (And here we were thinking that the "things I do for love" meant love in a more metaphorical sense…) And without the presumption of some larger motivation, the sheer pettiness of his motives make the attempted murder of a child even worse.
So already we see the usefulness of the POV format in shining a light on Jaime's thinking patterns. It also illuminates a lot about his character, in that the only reason why he regrets his actions is that Cersei gave him a hard time about it:
If truth be told, Jaime had come to rue heaving Brandon Stark out that window. Cersei had given him no end of grief afterward, when the boy refused to die. "He was seven, Jaime," she'd berated him. "Even if he understood what he saw, we should have been able to frighten him into silence."

"I didn't think you'd want—"

"You never think. If the boy should wake and tell his father what he saw—"

"If if if." He had pulled her into his lap. "If he wakes we'll say he was dreaming, we'll call him a liar, and should worse come to worst I'll kill Ned Stark."

"And then what do you imagine Robert will do?"

"Let Robert do as he pleases. I'll go to war with him if I must. The War for Cersei's Cunt, the singers will call it."

"Jaime, let go of me!" she raged, struggling to rise.

Instead he had kissed her. For a moment she resisted, but then her mouth opened under his. He remembered the taste of wine and cloves on her tongue. She gave a shudder. His hand went to her bodice and yanked, tearing the silk so her breasts spilled free, and for a time the Stark boy had been forgotten.

Had Cersei remembered him afterward and hired this man Lady Catelyn spoke of, to make sure the boy never woke? If she wanted him dead she would have sent me. And it is not like her to chose a catspaw who would make such a royal botch of the killing.
There's a lot to unpack here. We see that throwing Bran from the tower was not an aberration, but rather rooted in Jaime's impulsivity; as we see from how he thinks through how to handle Bran's survival, Jaime knows intellectually that there were other ways to handle the situation, but his instinctual solution to every problem is violence. Indeed, the two things are linked – because Jaime thinks of himself as the best swordsman in Westeros, he believes himself to be beyond consequences. So ludicrously cocksure is he of his own abilities that he even thinks he could get away with killing the Lord Paramount of the North in Winterfell itself, let alone the King of Westeros. No wonder he didn't think twice about throwing a boy from a tower.
Moreover, as we've seen before, he's completely obsessed about his family, to the point where they're almost the only real things in the world to him. He only cares about Bran Stark to the extent that it affected his relationship with Cersei, and he only cares about the catspaw to the extent that it might mean that Cersei turned to someone other than himself.  And we can also see that his relationship with Cersei might not be the storybook romance he believes it to be; while I loathe that scene from Season 4, we can see from this incident that Jaime thinks he can manufacture consent from Cersei any time he wants, which is a rather problematic attitude to say the least, and not that different from Robert Baratheon's thinking.
Indeed, one of the few signs that Jaime's not beyond saving is that, in the moment, he fins himself unable to kill Brienne despite it being in his self-interest to do so, and even that is largely subconscious: "one good swing when she comes paddling up and I'll be free of her. Instead he found himself stretching the oar out over the water." The other sign is his decision to cut his hair:
"Cleos, it seems I must ask you to shave me. Leave the beard, but take the hair off my head."

"You'd be shaved bald?" asked Cleos Frey.

"The realm knows Jaime Lannister as a beardless knight with long golden hair. A bald man with a filthy yellow beard may pass unnoticed. I'd sooner not be recognized while I'm in irons."
On the one hand, you could say this decision is largely driven by a combination of pragmatism and pride – that Jaime finds his confinement so humiliating that he's willing to go to quite extreme lengths to make sure he goes unnoticed. However, it's also a sign that Jaime is going to change within and without as he he undergoes his journey from Riverrun to King's Landing.
Brave, Brave, Brave, Brave Ser Cleos
Speaking of Jaime's fixation with Lannisters…one of the things I found absolutely hilarious in this episode is the way that Jaime compares everyone to Lannisters. Hence, his attitude towards Ser Cleos Frey, who he despises because:
The Lannister blood runs thin in this one. Cleos was his Aunt Genna's son by that dullard Emmon Frey, who had lived in terror of Lord Tywin Lannister since the day he wed his sister. When Lord Walder Frey had brought the Twins into the war on the side of Riverrun, Ser Emmon had chosen his wife's allegiance over his father's. Casterly Rock got the worst of that bargain, Jaime reflected. Ser Cleos looked like a weasel, fought like a goose, and had the courage of an especially brave ewe.

…They did defeat me with swords, you chinless cretin. Jaime smiled knowingly. Men will read all sorts of things into a knowing smile, if you let them. Has cousin Cleos truly swallowed this kettle of dung, or is he striving to ingratiate himself? What do we have here, an honest muttonhead or a lickspittle?

Ser Cleos prattled blithely on…Lickspittle.
While all of this is true – due in no small part to House Frey's status as an "asshole family" like the Peakes or the Brackens – I just find it funny that Jaime gets to the right conclusion because he looks down on Cleos for being insufficiently Lannister. And I do feel some small shred of pity for Cleos Frey, who is one of life's mooks, destined to die embarrassingly and be mourned by no one. But only a small shred, because we have more interesting things to  talk about.
The Wench
Like the character who will be the single most important relationship for Jaime's story in ASOS, acting as his foil, captor, savior, and moral mirror. And how does Jaime treat the Maid of Tarth?
…the wench grumbled, scowling. Scowls suited her broad homely face better than a smile. Not that Jaime had ever seen her smiling. He amused himself by picturing her in one of Cersei's silken gowns in place of her studded leather jerkin. As well dress a cow in silk as this one.
Because she's a woman, of course, he has to compare her to Cersei, because if there's one part of Lannister ideology that Jaime truly believes in, it's a smug sense of superiority grounded on conventional beauty norms. Then again, the reason why Jaime is so interested in Brienne is that, when it comes to adherence to conventional beauty norms and gender norms for that matter, she is basically the anti-Cersei (and will serve later to make him reconsider his relationship with Cersei in profound ways). And while Jaime is familiar with the concept that other women might try and fail to attain her lofty ideal, the idea that there might be a woman who doesn't even try (and indeed, goes in the other direction) is absolutely fascinating to him.
But the cow could row. Beneath her roughspun brown breeches were calves like cords of wood, and the long muscles of her arms stretched and tightened with each stroke of the oars. Even after rowing half the night, she showed no signs of tiring, which was more than could be said for his cousin Ser Cleos, laboring on the other oar. A big strong peasant wench to look at her, yet she speaks like one highborn and wears longsword and dagger. Ah, but can she use them? Jaime meant to find out, as soon as he rid himself of these fetters.
However, as Brienne is also a warrior, Jaime's initial reaction is that he wants to fight her. There's a couple reasons for this: first, because (we saw this above with his remembered conversation with Cersei), Jaime has something of if-all-you-have-is-a-hammer mentality when it comes to problem-solving. Second, it points to Jaime's impulsivity and belief that he is above consequences – when you're absolutely sure that you're going to win every fight, there's no reason not to fight – which is something that Jaime hasn't learned even after his defeat at Robb's hands at the Whispering Wood. Third, I think it speaks to the fact that fighting is the only thing Jaime really cares about; he hasn't had a chance to fight in months, so the first time he comes up against someone who might be a worthy opponent, it's all he can think about.
So Jaime begins an extended campaign of trying to provoke Brienne into a fight by baiting her with insults, trying to get her to fight him. And to give him credit, Jaime's pretty good at pissing people off:
…She scowled again, her face all horse teeth and glowering suspicion. "You'll wear your chains, Kingslayer."

"You figure to row all the way to King's Landing, wench?"

"You will call me Brienne. Not wench."

"My name is Ser Jaime. Not Kingslayer."

"Do you deny that you slew a king?"

"No. Do you deny your sex? If so, unlace those breeches and show me." He gave her an innocent smile. "I'd ask you to open your bodice, but from the look of you that wouldn't prove much."

…"My name is Brienne," she repeated, dogged as a hound.

"Lady Brienne?" She looked so uncomfortable that Jaime sensed a weakness. "Or would Ser Brienne be more to your taste?" He laughed. "No, I fear not. You can trick out a milk cow in crupper, crinet, and chamfron, and bard her all in silk, but that doesn't mean you can ride her into battle."
As with many bullies, Jaime identifies a weakness – here, Brienne's issues with gender roles – and begins relentlessly poking at it. And while Brienne is remarkably good at putting up with him, readers of ACOK only have an inkling of why his insults strike home, compared to the understanding we gained after A Feast For Crows was published. In retrospect, it's a testament to her self-control that she didn't haul off and smack him long before their duel.
While Jaime is mostly focused on fifth-grade level insults, he does manage to tease out that his captor is the daughter of "Selwyn of Tarth, by the grace of the gods Lord of Evenfall," which is an important little piece of information without which some pretty terrible things would have happened to Brienne. Just goes to show that you never know what's important until later.
The War of Five Kings: The Situation in the Riverlands
While being in Jaime's head and meeting his travelling companions is the major character thrust of the episode, the major thematic emphasis of the chapter (and as we will see, the entire book) is the cost of war:
…the war had taken its toll. They sailed past villages, but saw no villagers. An empty net, slashed and torn and hanging from some trees, was the only sign of fisherfolk. A young girl watering her horse rode off as soon as she glimpsed their sail. Later they passed a dozen peasants digging in a field beneath the shell of a burnt towerhouse. The men gazed at them with dull eyes, and went back to their labors once they decided the skiff was no threat.
It's interesting how blasé Jaime is about the destruction of the Riverlands, given that this devastation was either caused by the Lannisters directly or happened as a result of the invasion that Jaime was one of the chief architects of. It's doubly interesting given that we  know that he will return to the Riverlands in AFFC  with a mission (upon which he will stake much of his hopes of redemption) to bring an end to this devastation, and in the midst of that mission will be called upon to make an accounting for his past crimes.
But before we get to that, we come to one of the most important images of the series when it comes to GRRM's thinking on the nature of war:
…A thin grey finger crooked them on. It was rising from the south bank several miles on, twisting and curling. Below, Jaime made out the smouldering remains of a large building, and a live oak full of dead women.

The crows had scarcely started on their corpses. The thin ropes cut deeply into the soft flesh of their throats, and when the wind blew they twisted and swayed. "This was not chivalrously done," said Brienne when they were close enough to see it clearly. "No true knight would condone such wanton butchery."

"True knights see worse every time they ride to war, wench," said Jaime. "And do worse, yes."

…When he saw the crude sign hung about the neck of the highest corpse, he smiled. "They Lay With Lions," he read. "Oh, yes, woman, this was most unchivalrously done …but by your side, not mine. I wonder who they were, these women?"

"…The girls pleasured some of my lord father's soldiers, it would seem. Perhaps served them food and drink. That's how they earned their traitors' collars, with a kiss and a cup of ale." He glanced up and down the river, to make certain they were quite alone. "This is Bracken land. Lord Jonos might have ordered them killed. My father burned his castle, I fear he loves us not."
I've talked before about how GRRM uses the recurring motif of "true knighthood" to talk about the romanticization of warfare vs. the existential nature of honor. But here, the fact that Jaime, who we'll find out later in this book was once the biggest fanboy of knighthood culture, is the one posing as the cynic points to the truth that Sandor Clegane is not the only disappointed idealist in ASOIAF.
The larger importance of "They Lay With Lions," however, is the redefinition of the politics of the War of the Five Kings. Up until now, we've largely seen the Lannisters as the "bad guys" in the war: after all, they started the war, they have pursued a deliberate strategy of attacking civilian populations, and they have engaged in  torture and slavery, practices that violate Westerosi taboos. And since we've been seeing much of the Stark side through the eyes of Catelyn Stark, they've appeared to be the "good guys," fighting to defend the Riverlands from foreign occupation.
However, no war, however good its cause, is fought with unstained hands – and we've already seen how the scorched earth policies of the Riverlords have affected their own people. Especially when it comes to resistance movements fighting against occupations which by their very nature compel civilians into obeying the occupying power, it is hard to tell the difference between a necessary (and perhaps even justified) policy of punishing collaborators and wanton brutality against civilians who had little choice in colluding with the enemy that makes the resistance little different from the supposed tyrants. This is especially true when it comes to reprisals against women who have sex (however willingly or unwillingly) with occupying soldiers – as we will discuss in some detail in the Historical Analysis section.
And while sometimes the rogue Karstarks are used to maintain the "good guy" status of the Starks proper, and while it's pretty clear that Robb Stark hasn't deliberately used attacks on civilian populations as a strategy in the same way that Tywin has, the fact that Jaime brings up Jonos Bracken here as a likely suspect should make us reconsider whether any participant in the game of thrones, however benign their motives, can be considered a "good guy." Something to keep in mind when we encounter the political ideology of the Brotherhood Without Banners.
The Pursuit
However, the war's impact on the Riverlands is not solely a matter of theme and subtext – just as Tywin's orders directly affected Arya's journey through the Riverlands, so too does the course of the war impact Brienne's attempt to bring her prisoner to King's Landing. As Jaime himself says: "Brienne," he said, granting her the courtesy of the name in the hopes that she might listen, "if Lord Bolton holds Harrenhal, both the Trident and the kingsroad are likely watched."
As we can see from the map above, Jaime is very much in the midst of enemy territory, and the capture of Harrenhal and Tywin's march to King's Landing, has made things even worse. Either the riverrine route or the land route will now bring him past Roose Bolton's Northern forces, and he won't be in reach of any Lannister forces for 750 miles. And again, as we can see from the map, Brienne and co. aren't making very good time – 17 miles a day (which I calculated from how long it takes them to make it to the Inn of the Kneeling Man) is a bit on the slow side for a small group on the road, it's abysmally slow for a group in a boat. (Probably due to the fact that Ser Cleos weighs 90 pounds soaking wet, Jaime's in chains, and Brienne by herself can't row all day…)
The problem is that the longer they tarry on the water, the more likely that someone from Riverrun is going to catch up to them, as happens almost immediately:
For the good part of an hour they played peek-and-seek with the pursuers, sweeping around bends and between small wooded isles. Just when they were starting to hope that somehow they might have left behind the pursuit, the distant sail became visible again. Ser Cleos paused in his stroke. "The Others take them." He wiped sweat from his brow.

"Row!" Brienne said.

"That is a river galley coming after us," Jaime announced after he'd watched for a while. With every stroke, it seemed to grow a little larger. "Nine oars on each side, which means eighteen men. More, if they crowded on fighters as well as rowers. And larger sails than ours. We cannot outrun her."

…The galley was skimming downriver, a great wooden dragonfly. The water around her was churned white by the furious action of her oars. She was gaining visibly, the men on her deck crowding forward as she came on. Metal glinted in their hands, and Jaime could see bows as well. Archers. He hated archers.
The idea of a river galley, likely a Riverlander adaptation of the Ironborn longships used to conquer them, is such a good one that I'm kind of surprised we haven't heard of them before. The river galley is significantly smaller than a standard Ironborn longship, although that would make it much cheaper to manufacture in greater numbers (and easier to maneuver through shallow waters), but the advantage of combining the mobility of oars and sail with the combined artillery fire of potentially a dozen or more archers and the ability to land troops behind enemy lines would especially shine in the unique terrain of the Riverlands. They would have been invaluable during the Battle of the Fords, or during the Battle of the Trident in Robert's Rebellion, or the Battle of the Red Fork or the Fishfeed or the Butcher's Ball in the Dance of the Dragons.
The novelty of the boat, however, doesn't make it any less effective, and so unfortunately Jaime has to try diplomacy, a task for which he is manifestly unsuited:
…When the boats were fifty yards apart, Jaime cupped his hands around his mouth and shouted back over the water. "Come to wish me godspeed, Ser Robin?"

"Come to take you back, Kingslayer," Ser Robin Ryger bellowed. "How is it that you've lost your golden hair?"

"I hope to blind my enemies with the sheen off my head. It's worked well enough for you."

Ser Robin was unamused. The distance between skiff and galley had shrunk to forty yards. "Throw your oars and your weapons into the river, and no one need be harmed."

Ser Cleos twisted around. "Jaime, tell him we were freed by Lady Catelyn…an exchange of captives, lawful…"

Jaime told him, for all the good it did. "Catelyn Stark does not rule in Riverrun," Ser Robin shouted back. Four archers crowded into position on either side of him, two standing and two kneeling. "Cast your swords into the water.

"I have no sword," he returned, "but if I did, I'd stick it through your belly and hack the balls off those four cravens."

A flight of arrows answered him. One thudded into the mast, two pierced the sail, and the fourth missed Jaime by a foot.
The exchange between Jaime and Ser Robin Ryger about Catelyn Stark's "lawful" exchange of hostages brings up yet another problem with the way that Catelyn handled the situation. In addition to all of my other complaints about her strategic thinking in that decision, one of the fundamental problems with doing things the way she did is that Catelyn has no authority to prevent attempts to recapture Jaime. So with diplomacy having failed and outrunning them not being an option due to the superior speed of the river galley, Jaime has only one other option:
Ser Robin raised a hand, and his archers lowered their bows. "Say what you will, Kingslayer, but say it quickly."

The skiff swung through a litter of broken stones as Jaime called out, "I know a better way to settle this—single combat. You and I."

"I was not born this morning, Lannister."

"No, but you're like to die this afternoon." Jaime raised his hands so the other could see the manacles. "I'll fight you in chains. What could you fear?"

""Not you, ser. If the choice were mine, I'd like nothing better, but I am commanded to bring you back alive if possible. Bowmen." He signaled them on. "Notch. Draw. Loo—"
I've talked already about Jaime's swordsman mentality, but we can really see it on display in this chapter. Between Jaime's class-based hatred of archers, who take the view that hand-to-hand combat with armed and armored knights is a mug's game, and his ridiculous idea that Ser Robin would ever take him up on his ridiculous challenge, it's pretty clear that Jaime hasn't really learned from his mistakes in the Whispering Woods (link). Indeed, the only reason why Jaime doesn't get himself feathered with arrows as a testament to stupidity and arrogance is that Brienne of Tarth is a goddamn superhero:
"… a boulder the size of a cow detached itself from the top of the bluff. Ser Robin shouted in dismay. The stone tumbled through the air, struck the face of the cliff, cracked in two, and smashed down on them. The larger piece snapped the mast, tore through the sail, sent two of the archers flying into the river, and crushed the leg of a rower as he bent over his oar. The rapidity with which the galley began to fill with water suggested that the smaller fragment had punched right through her hull. The oarsman's screams echoed off the bluff while the archers flailed wildly in the current. From the way they were splashing, neither man could swim. Jaime laughed.

…When Jaime looked up, Brienne was lumbering along the clifftop well ahead of them, having cut across a finger of land while they were following the bend in the river. She threw herself off the rock, and looked almost graceful as she folded into a dive.
The average cow weighs something around 1,400 pounds, and given that rocks as substantially more dense than cows, this is an incredible feat of strength, worthy of Hafþór Björnsson himself. The fact that Jaime thought he had any chance against Brienne after witnessing this display really does speak to his extreme arrogance.
Historical Analysis:
As I said above, one of the inescapable dilemmas of resistance against occupation is how a resistance movement deals with collaborators. And one of the ugliest aspects of all of this is the case of women who entered into sexual relationships with occupying soldiers.
These kinds of reprisals are always deeply problematic, in that they are rooted in paternalistic conceptions of ownership over "our women," (to say nothing of how these punishments completely ignored whether the women in question truly consented to these relationships or were driven by necessity into survival prostitution) projected self-hatred of men who've failed to defend their father/motherland, and xenophobic if not outright racist fears that "half-breed" children somehow compromise national purity.
Probably the most famous example of these kind of reprisals took place in World War II, following the liberation of Western Europe. In France, Belgium, and Holland,  tens of thousands of women were forcibly shaved (if not worse) by jubilantly vengeful crowds who were happy to forget that most of them had collaborated as well in less visible fashions: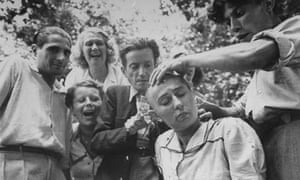 In the 2006 film Black Book, none other than the Red Priestess Carice Van Houten plays a Jewish member of the Dutch Resistance who is ordered to infiltrate the German occupation forces by entering into romantic relationships with high-ranking offices. Despite the fact that she's literally acting under orders, Van Houten's character is arrested following the liberation of Holland for collaboration horizontale, and only narrowly avoids the same fate that tens of thousands of women endured in the aftermath of WWII.
While it might seem like a strange subject for ASOIAF parallels, I'll actually be discussing WWII-era resistance movements quite a bit in my ASOS essays, especially when Arya encounters the Brotherhood Without Banners. So if this interests you, tune in!
What If?
There are quite a few hypothetical scenarios I can see for this chapter:
Jaime gets recaptured? Let's say the rock is just too big for Brienne to shift or something along those lines:

If Jaime is returned to Riverrun, some interesting things happen. While it's unlikely that the Red Wedding would not happen at all, I do think that Tywin would go to some lengths to make sure that the Red Wedding is a capture-not-kill scenario, given the need to keep Jaime alive for a likely prisoner exchange.
On the other hand, it's quite possible that the second siege of Riverrun becomes a strange double-sided affair in which Emmon Frey threatens to hang Edmure Tully and Brynden Tully threatens in turn to hang Jaime Lannister.
At the same time, some important character stuff changes. Without his fateful encounter with the Bloody Mummers, Jaime likely doesn't lose his hand, which in addition to short-circuiting his personal growth as a character, means that he doesn't have his conflict with Tywin over leaving the Kingsguard, and means that he's very much available as a champion for trials by combat. And most significantly, if Jaime is stuck in Riverrun, there's no one to free Tyrion from the cell (although GRRM still has Varys on hand as his plan B).
Jame et al. die? Given how close Ser Robin's arrows got to Jaime, it's not hard to imagine a scenario where Brienne is just a few seconds too late to stop that last volley of arrows and Jaime falls prey to the knight's bane. In addition to Tyrion not having anyone to let him out of the cell, a lot of things in the Riverlands changes – the sieges of Riverrun and Raventree Hall don't end (or at least don't end bloodlessly), and there's no order to have the prisoners from the Twins sent to King's Landing (creating an opening for the Brotherhood Without Banners to ambush their convoys and liberate them).
Jaime kills Brienne? This is a really interesting scenario. Without the duel, it's more likely that Jaime isn't captured and dehanded by the Bloody Mummers. However, without Brienne of Tarth, it's quite likely that Jaime Lannister meets his end at the hands of Lady Stoneheart and the Brotherhood Without Banners…
Book vs. Show:
The show makes a rather short job of this part of Jaime and Brienne's storyline in Season 3, so that by the end of their first episode, they are captured by not-Vargo-Hoat. And while Jaime and Brienne's snarky dialogue is quite excellent – I quite like Jaime's capper line "my point is, we don't choose whom we love" although in retrospect it started the weird normalization of Jaime and Cersei's relationship that the show started pushing in Season 4 and 5 – it is a bit of a shame we missed out on a great action sequence for Gwendoline Christie to knock out of the part.