THIS IS NOT A DRILL, REPEAT, NOT A DRILL.
At Balticon 2016 the other night, GRRM read out a brand-new Aeron Damphair chapter from TWOW. Many many thoughts on the chapter below the cut:
My initial reaction was one of rather petty dismay, that this chapter made Euron Crowseye out to be a much bigger deal than I thought he was, and that I would have to pay out my bet with BryndenBFish (and others? Can't remember, it's been a while) about the Euron vs. Redwyne naval showdown. However, on reflection, I've come to an intermediate position between "Euron is a sideshow, Redwynes will win because we need to get to the White Walkers" and "oh crap I'm totally wrong, this is going to take forever," which I will explain below.
To get initial impressions out of the way, let me say that this is an amazing chapter and you all need to read it right away. GRRM was clearly relishing the opportunity to go full-on metal album cover with this one, and the apocalyptic imagery has a shock and impact that cannot be ignored and downplayed. Between the really gruesome violence, the mind-bending psychedelia of the visions, and Euron's anime villainness turned up to 11, I found myself genuinely rattled – so much so that I think I missed some of the most important stuff in the chapter my first read-through, and only on a second read did I get a handle on what's going on.  Indeed, I would highly recommend that everyone who read it goes back and reads it a second time in a somewhat calmer environment, so that you can actually pay attention to what's going on beneath the freaky visuals.
The Political Situation of the Iron Islands
One of the big things we can take away from this chapter is a very definitive answer to what's going on and what's likely to go on with the politics of the Iron Islands. While many of us, myself included, thought that Aeron was going to "go to Great Wyk to Harlow to Orkmont to Pyke itself.  In every town and village shall my words be heard. No godless man may sit the seastone chair!" it turns out that Euron's mutes bushwacked him while he was communing with the sea and he's been in the hold of the Silence the whole time.
Which means that there's no religious rebellion on the islands (although Aeron's men are still there without their leader, so it's not as if Euron's sewn up every loose end), and Erik Ironmaker is still in charge. Which in turn raises the question of whether we're going to get a Torgon Latecomer scenario with Theon and Asha  – although the show seems to be going with Theon and Asha hooking up with Dany, it's still an option in the books, although it'll be significantly harder without Euron raising up the common people to pull down Euron's regime.
At the same time, we learn that Euron doesn't actually care about holding onto the Iron Islands after all, which renders moot a lot of the explainers people have written about how unstable that conquest was:
"Why should I want to hold them?" His brother's smiling eye glittered in the lantern light, blue and bold and full of malice. "The Shields have served my purpose. I took them with one hand, and gave them away with the other. A great king is open-­handed, brother. It is up to the new lords to hold them now. The glory of winning those rocks will be mine forever. When they are lost, the defeat will belong to the four fools who so eagerly accepted my gifts."
In this new context, we see that Euron only really wanted the Shield Islands so that he could give them away – Euron is definitely a monster and definitely crazy, but he absolutely understands that in feudal politics "a great king is open-handed" (and how that can cut both ways) – to Harras Harlaw, Andrik the Unsmiling, Maron Volmark and Nute the Barber, thus eliminating any chance that Victarion could turn his faction against Euron.
In the short-term, it's a very interesting political move, because the Iron Islands are not exactly rich with manpower, and having already sent away the Iron Fleet, Euron can't particularly afford to keep sacrificing his own men as pawns. Yes, the Reachermen might get bloodied taking back the Shield Isles, but they have more pawns to trade with. It's almost like Euron doesn't care about the larger strategic picture…more of which in a minute.
Aeron and Faith
To me, the most effective thematic through-line of the chapter is its depiction of Aeron Damphair's "dark night of the soul." Throughout this chapter, Aeron is experiencing a complete religious crisis, and is constantly trying and failing to extricate himself from it. Which is entirely appropriate, because the last time we saw him, Aeron was having a major crisis of faith as the Kingsmoot he had called placed a godless man on the Seastone chair:
The kingsmoot had chosen Euron Crow's Eye but the kingsmoot was made of men, and men were weak and foolish things, too easily swayed by gold and lies. I summoned them here, to Nagga's bones in the Grey King's Hall. I called them all together to choose a righteous king, but in their drunken folly, they have sinned. It was for him to undo what they had done.
Indeed, throughout this chapter, Aeron's resentment toward everyone who let him down will find expression as a kind of religious misanthropy, leading him to conclude that "This was a lesson for him. Put not your trust in men." Instead of men, Aeron redoubles his efforts with the Drowned God in his hopes for quite literal salvation.
The problem for Aeron, as it has been throughout the series, is that his faith is ultimately hollow. As much as he believes with all his might in the Drowned God, the truth that he cannot bring himself to accept is that the Drowned God has never come to him, never rewarded his faith with grace and mystery. And so, like many people of faith who do not feel the presence of the divine, he tricks himself into imagining it:
Mingled with the distant roar of song and celebration coming up from the beach, he'd heard the faint creak of longships settling on the strand. He heard the keening of the wind and now whines. He heard the pounding of the waves, the hammer of his god calling him to battle. And there and then, the Drowned God had come to him once more, his voice welling up from the depths of the sea.

"Aeron, my good and faithful servant, you must tell the Ironborn that the Crow's Eye is no true king, that the seastone chair by rights belonged to… to… to…"

Not Victarion. Victarion had offered himself to the captains and kings but they had spurned him.

Not Asha. In his heart, Aeron had always loved Asha best of all his brother Balon's children. The Drowned God had blessed her with a warrior's spirit and the wisdom of a king—but he had cursed her with a woman's body, too. No woman had ever ruled the Iron Islands. She should never have made a claim. She should have spoken for Victarion, added her own strength to his.

It was not too late, Aeron had decided as he shivered in the sea. If Victarion took Asha for his wife, they could yet rule together, king and queen. In ancient days, each isle had its Salt King and its Rock King. Let the Old Way return.

Aeron Damphair had struggled back to shore, full of fierce resolve. He would bring down Euron, not with sword or axe but with the power of his faith. Padding lightly across the stones, his hair plastered black and dank across his brow and cheeks, he stopped for a moment to push it back out of his eyes.
As we see in this passage, Aeron's dialogue with the Drowned God is actually a monologue in two parts where he's speaking both roles. The Drowned God doesn't really exist for him outside of being a ratifier of his own desires and beliefs – hence it addresses him with the warmth and respect he desires, councils him to pursue the course of action he already has set upon, and most tellingly of all, the Drowned God hesitates at the exact point where Aeron himself is most conflicted.
In this, Aeron reminds me most of Deacon Vorbis from Terry Pratchett's Small Gods, another fanatic who used religion to justify torture, war, and murder on a grand scale, who when he was forced to look inward could find no faith in anything except himself, and who ultimately confused the echo of his own thoughts bouncing off the insides of his skull with the voice of Om: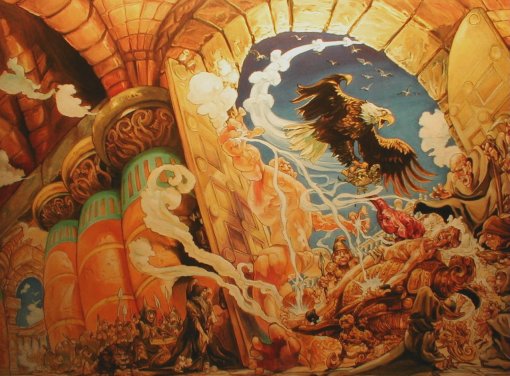 His confusion about what to do next breaks him out of character enough that we see Aeron's own voice returning, assessing his options and indulging in a bit of recrimination and second-guessing. This isn't a prophet receiving a message from Outside, this is an ordinary man doing a bit of political calculation and trying to come up with a new formula – in this case, the rather outre and unlikely to succeed coalition-by-way-of-nuncle-marriage ticket of Asha and Victarion as dual monarchs. To me, that's the biggest tell – at a subconscious level, Aeron doesn't really believe in the Old Way as a monolithic, consistent, and inerrant guide, but rather as a set of contradictory political symbols that he can manipulate to get the outcome he wants and then retroactively bless it as orthodoxy.
But at a conscious level, he still believes and throughout the chapter is trying to interpret what's happened to him through that lens. Thus, when he's feeling powerless and frightened and in pain, Aeron reverts to Job's logic of "where wast thou when I laid the foundations of the earth?":
A weaker man might have wept, but Aeron Damphair prayed, waking, sleeping, even in his fever-dreams he prayed. My god is testing me. I must be strong, I must be true…

Aeron Damphair hardly heard her. Victarion is gone, half a world away or dead. Surely the Drowned God was testing him…Only my faith can save me now.
And when the other priests are brought in, leading Aeron to fear torture and mutilation, he changes the script again to give himself a little bit of confidence:
The Drowned God protects me, the priest told himself. He is stronger than the false gods these other worship, stronger than their black sorceries. The Drowned God will set me free.
Finally, in the depths of his dark night of the soul, Aeron turns to a more profound form of prayer, one directed upwards and not inwards, spiritually pointing a finger at the Drowned God and reminding him (again, like Job) that "you owe me":
That night, when the tide came rushing back into the prison cell, he prayed that it might rise all  night, enough to end his torment. I have been your true and leal servant, he prayed, twisting in his chains. Now snatch me from my brother's hand, and take me down beneath the waves, to be seated at your side!

But no deliverance came. Only the mutes, to undo his chains and drag him roughly up a long stone stair to where the Silence floated on a cold black sea.
But just like before, the Drowned God does not answer (not even to explain condescendingly that it's not your place to ask questions). No miracles showing the hand of a living god at work in the world, and in a world where the Old Gods can send their will through time and space and turn the earth and the sea into weapons, where dead men are brought back to life through the fiery communion of R'hllor, that speaks volumes.
But to give Aeron Greyjoy credit, this doesn't break him. Despite everything, he finds enough iron in his soul to conduct himself admirably in the real theological dialogue in this chapter, namely the one between himself and Euron Crowseye:
"Still praying, priest? Your god has forsaken you."

"You're wrong."

"It was me who taught you how to pray, little brother. Have you forgotten? I would visit your bedchamber at night when I had too much to drink. You shared a room with Urrigon high up in the seatower. I could hear you praying from outside the door. I always wondered: Were you praying that I would choose you or that I would pass you by?" Euron pressed the knife to Aeron's throat.

"…That which is dead cannot die," said Aeron fiercely. "For he who has tasted death once need never fear again. He was drowned, but he came forth stronger than before, with steel and fire."

"Will you do the same, brother?" Euron asked. "I think not. I think if I drowned you, you'll stay drowned. All gods are lies, but yours is laughable. A pale white thing in the likeness of a man, his limbs broken and swollen and his hair flipping in the water while fish nibble at his face. What fool would worship that?"

"He's your god as well," insisted the Damphair. "And when you die, he will judge you harshly, Crow's Eye. You will spend eternity as a sea slug, crawling on your belly eating shit. If you do not fear to kill your own blood, slit my throat and be done with me. I'm weary of your mad boastings."
Leaving aside Euron's particular brand of atheism (which I'll discuss more in a minute) Euron represents an existential threat to Aeron's faith, not merely because he's a madman bent on setting off the apocalypse (more on which in a moment), but more importantly because of their dark intimacy. When Euron says "it was me who taught you to pray," he speaks with an abuser's certainty at the damage he inflicted on his victim's psyche. But his argument is even crueler than that: he's essentially saying that Aeron only believes because Euron's abuse drove him to religion, and (buried underneath a barbed jab that makes use of Euron's double-edged use of sexuality far better than the show did) suggests either that Aeron was so weak that he was praying that Euron would abuse Urrigon instead of him, or that Aeron or praying to be abused.
Speaking of existential victories, Aeron wins a small one in this chapter simply by not giving in in the face of this onslaught. He sticks to his guns, insisting that the Drowned God will uphold the moral economy of the universe against Euron's nihilism, and spits defiance back in his brother's face. And Aeron's defiance is important here, because what Euron wants from him (in a Drama 101 scene-building sense) is the same thing that all abusers want from their victims: complicity through retroactive consent. And this too, has its religious connotations:
"Pray to me. Beg me to end your torment, and I will."

"I am your king, I am your god. Worship me, and I will raise you up to be my priest."
In this particular case, what Euron wants isn't just proof that "it was love, not abuse," but religious validation. He wants Damphair to recognize him as a god, not so much for public, political reasons (as we see later, Euron has surrounded himself with true believers who don't give a damn for Damphair) but for personal reasons. If Euron can get the true believer to ratify his divinity, to get Euron to deny the faith that sustained him during his abuse and gave him a new purpose in life, he wins a complete and total victory. Aeron will love Big Brother.
Despite everything, Aeron refuses. He keeps to his faith, and from his defiance he draws a last gasp of hope and pride before everything goes to hell:
The sea. I can smell the sea. The Drowned God has not abandoned me. The sea will make me whole again! That which is dead can never die, but rises again harder and stronger…

"Take me to the water," he commanded, as if he were still back on the Iron Islands surrounded by his drowned men, but the mutes were his brother's creatures and they paid him no heed.
As full of despair as "The Forsaken" can be, these are the exact kind of moments that makes GRRM's writing Romantic rather than nihilistic, that separates ASOIAF from so much "deconstructive" fantasy novels. Here, even when things are at their darkest, there are some moments of hope that break the darkness. Because even as Aeron Damphair is lashed to the prow of Euron's ship, a completely helpless figurehead to what is going to happen now, he is moved to do something he's never done before:
…"Falia Flowers," he called. "Have courage, girl! All this will be over soon, and we will feast together in the Drowned God's watery halls."
After so many years of treating his faith as something to justify his own desires, as something that condemned and decreed but never comforted or forgave, finally Aeron uses his faith to help others, ministering to a soul in need, and putting their needs above his own. Whether it will do any good, we will have to wait and see…
The Two Visions
In addition to Aeron's religious ordeal, he also undergoes two forced prophetic experiences at the hands of his brother and his penchant for "the wine of the warlocks, sweeter than your seawater, with more  truth in it than all the gods of earth." And this is where the metal-album imagery and psychedelia really begins to kick in, because Aeron has one hell of a bad trip. It starts, as all the best nightmares do, with a vision of ghost of the past:
"Urri!" he cried. There is no hinge here, no door, no Urri. His brother Urrigon was long dead, yet there he stood. One arm was black and swollen, stinking with maggots, but he was still Urri, still a boy, no older than the day he died.

"You know what waits below the sea, brother?"

"The Drowned God," Aeron said, "the watery halls."

Urri shook his head. "Worms… worms await you, Aeron."

When he laughed his face sloughed off and the priest saw that it was not Urri but Euron, the smiling eye hidden.
In some ways, this is the most expected thing to appear in these visions – Urrigon was Aeron's closest brother, the brother he shared a room with that was the place of his abuse, and the brother whose accidental death due to Aeron's drunken axe-throwing he clearly still blames himself for, and the source of the quasi-suicidal recklessness that brought him to his near-death experience and religious awakening. For Urri to appear to Aeron bearing the wound he gave him, and tell him that he's going to be denied entrance to heaven is essentially Aeron's mind accusing himself of not having done penance for his actions – or suggesting that his self-hatred is ultimately just an internalization of Euron's abuse. (Which is why I don't really think that this is a literal prediction…)
Speaking of which, Euron is very much the main event of this, the first set of visions from the shade of the evening we've had since Dany IV of ACOK.  And the Euron we meet in this vision is eschatologically terrifying:
He showed the world his blood eye now, dark and terrible. Clad head to heel in scale as dark as onyx, he sat upon a mound of blackened skulls as dwarfs capered round his feet and a forest burned behind him…

Then Euron lifted a great horn to his lips and blew, and dragons and krakens and sphinxes came at his command and bowed before him. "Kneel, brother," the Crow's Eye commanded…

"Never. No godless man may sit the Seastone Chair!"

"Why would I want that hard black rock? Brother, look again and see where I am seated."

Aeron Damphair looked. The mound of skulls was gone. Now it was metal underneath the Crow's Eye: a great, tall, twisted seat of razor sharp iron, barbs and blades and broken swords, all dripping blood.

Impaled upon the longer spikes were the bodies of the gods. The Maiden was there and the Father and the Mother, the Warrior and Crone and Smith…even the Stranger. They hung side by side with all manner of queer foreign gods: the Great Shepherd and the Black Goat, three-headed Trios and the Pale Child Bakkalon, the Lord of Light and the butterfly god of Naath.

And there, swollen and green, half­-devoured by crabs, the Drowned God festered with the rest, seawater still dripping from his hair.

Then Euron Crow's Eye laughed again, and the priest woke screaming in the bowels of Silence,  as piss ran down his leg. It was only a dream, a vision born of foul black wine.
This particular image speaks both to the conflict between the two brothers (providing the context for one of the two moments this chapter where Euron demands worship) and to Euron's larger purpose. Despite the imagery of deadly thrones, indeed of the Iron Throne itself, I remain unconvinced that Euron will sit the Iron Throne (or indeed, that he even desires to…more of which in a bit).
Because here, Euron's desire for rulership seems entirely secondary to his desire to bring about the apocalypse – the Iron Throne itself is presented here less as an object of desire but more of a means to Euron's end, the death of of all gods: the Seven, the Gods of Essos (although not all of them), and the Drowned God. Likewise, we never see Euron receiving the homage or worship of human beings, only "dragons and krakens and sphinxes," mystical beasts associated both with destruction and prophecies of the end of the world.
However, I think it's the second vision that might be the more significant and explanatory:
The dreams were even worse the second time. He saw the longships of the Ironborn adrift and burning on a boiling blood­-red sea. He saw his brother on the Iron Throne again, but Euron was no longer human. He seemed more squid than man, a monster fathered by a kraken of the deep, his face a mass of writhing tentacles. Beside him stood a shadow in woman's form, long and tall and terrible, her hands alive with pale white fire. Dwarves capered for their amusement, male and female, naked and misshapen, locked in carnal embrace, biting and tearing at each other as Euron and his mate laughed and laughed and laughed…
As I'll explain more in a bit, I think the line about the "longships of the Ironborn adrift and burning on a boiling blood­-red sea" make a lot of the speculations about how Euron is going to use magic to win a naval battle against the Redwyne Fleet entirely moot. If my interpretation of this line is correct, Euron does not care about winning any such battle, or in conquering the Reach, or any human concerns.
Likewise, while Euron is sitting on the Iron Throne again, his motives are not the normal secular and political concerns of princes – here he appears as the horrific truth beneath the humanized mask of the Drowned God, and rather than ruling or actively doing anything, he seems content to kick back and enjoy the end of the world. Euron doesn't care about becoming king; he has his eyes set somewhat higher than that.
Now as to the identity of this woman, I'm not entirely sure. A lot of people have argued that it's Melisandre; she is associated with shadows and fire, and she is described as being both "tall" and "terrible." I'm less inclined in that direction – for one thing, given Melisandre's proximity to the Wall, Jon Snow, and the Heart of Winter, I think her future course leads her to Winterfell not to the Reach. And while Melisandre has talked about "white fire" before, more pertinently that phrase last came up in regards to Euron's horn, when it was sounded at the Kingsmoot and "the glyphs were burning brightly, every line and letter shimmering with white fire." And given that Euron sent the Dusky Woman with the dragonbinder horn, I'm leaning to the Dusky Woman as the simplest explanation.
Euron the Monster
In case anyone was confused, this chapter provides even more proof that Euron is a monster. But unlike say, Ramsay in HBO's Game of Thrones, there is a larger purpose in Euron's monstrosity. Take for example, the revelation that Euron is three times a kinslayer:
"Well, if you count half­ brothers. Do you remember little Robin? Wretched creature. Do you remember that big head of his, how soft it was? All he could do was mewl and shit. He was my second. Harlon was my first. All I had to do was pinch his nose shut. The greyscale had turned his mouth to stone so he could not cry out. But his eyes grew frantic as he died. They begged me. When the life went out of them, I went out and pissed into the sea, waiting for the god to strike me down. None did. Oh, and Balon was the third, but you knew that. I could not do the deed myself, but it was my hand that pushed him off the bridge." The Crow's Eye pressed the dagger in a little deeper, and Aeron felt blood trickling down his neck. "If your Drowned God did not smite me for killing three brothers, why should he bestir himself for the fourth?" 
Given how young Euron had to be if he killed Harlon, Quellon's firstborn son, when Harlon was a child,  this paints the picture of a psychopath from very early childhood. It also suggests that Euron made it something of a project to kill off anyone standing between him and his father's inheritance: all of Quellon's sons with the lady of House Stonetree (Harlon, Quenton, and Donel) died in early childhood, as did Robin his son with the lady of House Piper.
But rather than horror for horror's sake, we see that Euron drew a connection between his actions, the lack of consequences from them, and his…unique ideas about religion. While Aeron was so desperate for some word from the Divine that he invented them when there were none, Euron took from the silence of the Drowned God that "all gods are lies," that there are no consequences for our actions beyond what mortal men can impose from them. And this revelation has been the ticket to Euron's success throughout his life – at each step, he succeeds by going beyond the boundaries set out by taboo and custom, whether it's kinslaying its way to the throne or sailing into the Doom itself to bring back treasures:
Valyrian steel, the Damphair knew. His armor is Valyrian steel. In all the Seven Kingdoms, no man owned a suit of Valyrian steel. Such things had been known 400 years ago, in the days before the Doom, but even then, they would've cost a kingdom.

Euron did not lie. He has been to Valyria. No wonder he was mad.
Finding out that Euron actually sailed to Valyria is part of what changed my opinion about the man – certainly it explains how he got his hands on a dragonbinder horn, the dragon egg he used to pay for Balon's assassination, and this nifty suit of Valyrian steel. On the other hand, I'm still of the opinion that the Doom is quite real – so Damphair might be more right than he knows when he says that Euron is mad, and it's possible that Euron has simply decided to lean into the Doom by bringing everyone down with him.
Speaking of which, gah, Falia Flowers. This is the kind of thing that makes me so thoroughly ambivalent about Euron, because on the one hand, he's even more clearly bound up in all of this mystic shenanigans, but the horror that he inflicts on Falia – turning her into his puppet with his "rags and rocks," promising that he will make her his salt wife on a level with Daenerys Targaryen, and then cutting out her tongue and strapping her to the prow of his ship as a human figurehead – is so petty and human that it makes me think twice.
Just can't wrap my head around this guy.
His Plans
So at the end of the day, what is it that Euron Crowseye is up to? Initially, Euron tells his brother that he is sailing "South—for conquest, plunder, dragons." But the rest of the chapter makes me think that's mostly a lie, because over and over again, we see that Euron doesn't care about worldly things, be it the treasure he scattered at the feet of the captains or entire fiefdoms:
The Crow's Eye puts no value in such things. That was one of the things that drew men to his service. Most captains kept the lion's share of their plunder but Euron took almost nothing for himself.

"…Why should I want to hold them?" His brother's smiling eye glittered in the lantern light, blue and bold and full of malice. "The Shields have served my purpose. I took them with one hand,and gave them away with the other. A great king is open-­handed, brother."
This attitude towards secular matters – along with the two visions – is what initially got me thinking that Euron wasn't actually intending to win the battle. But what got me especially thinking this is the case is what we learn about Euron's plans with regards to Damphair and the other priests:
"No, I'll not kill you tonight. A holy man with holy blood. I may have need of that that blood…later. For now, you are condemned to live."

It was in the second dungeon that the other holy men began to appear to share his torments. Three wore the robes of septons of the green lands, and one the red raiment of a priest of R'hllor. The last was hardly recognizable as a man. Both his hands had been burned down to the bone, and his face was a charred and blackened horror where two blind eyes moved sightlessly above the cracked cheeks dripping pus…

In his saner moments, Aeron questioned why the Crow's Eye was collecting priests, but he did not think that he would like the answer…
Let's tease this out: Euron is collecting priests, because he wants their holy blood for a blood magic ritual. This is rather puzzling; in the canons of blood magic, we have only ever heard that king's blood has any kind of power, so this is entirely new to us. (Although maybe Mirri Maz Duur being burned in the pyre?) Being ecumenical about it seems to be part of the purpose – hence the Seven, R'hllor, and the Drowned God all being represented – as if Euron was trying to hedge his bets by linking up with every faith out there. And we can see with the priest of R'hllor, contrapuntal torment is part of the ritual – the Red Priests get burned, Aeron is hung in the air above the waves, and what's going to happen to the septons I have no idea.
But as we learn later, the priests are only one part of the ritual. Quality and quantity are both important:
"The Crow's Eye has fed your Drowned God well, and he has grown fat with sacrifice. Words are wind, but blood is power. We have given thousands to the sea, and he has given us victories!"

"…Your Grace," said Torwold Browntooth. "I have the priests. What do you want done with them?"

"Bind them to the prows," Euron commanded. "My brother on the Silence. Take one for yourself. Let them dice for the others, one to a ship. Let them feel the spray, the kiss of the Drowned God, wet and salty."
The priests being bound to the prows of a few chosen ships suggests they're being used as some sort of focusing or signalling talisman, some way of concentrating the vast supernatural energies being channeled to a point. At the same time, the deliberate sacrifice of thousands (note how Euron's minions are already throwing aside or perverting their religious traditions, how quickly it becomes "your Drowned God") suggests that you need a massive amount of energy, not just the deaths of a half-dozen or so priests, to complete this ritual.
This is what makes me think that Euron doesn't care about winning the naval battle, because it's not a naval battle at all, but a blood magic ritual. Remember the vision, where Aeron "saw the longships of the Ironborn adrift and burning on a boiling blood­-red sea"? That doesn't look like an unlikely, come-from-behind victory to me; that looks like the Doom of Valyria come again. That looks like a new Thin Place being created just outside of Oldtown, and Thin Places require deaths on a mass scale.
And it's going to be built with almost the entire Ironborn navy at ground zero…because Euron's going to sacrifice both sides of the coming naval battle. Which perfectly fits with everything that's come before – just as Euron gives away treasure because he doesn't care about worthless things, just as he gives away the Shield Isles because he doesn't need them after they've served his purpose, so too are the Ironborn who shouted his name in the Kingsmoot going to die like the patsies they always have been.
So what is the purpose of this giant blood magical ritual? What prize would be worth the deliberate sacrifice of entire kingdom's navies? The same thing Euron's been talking about all chapter long:
"The bleeding star bespoke the end," he said to Aeron. "These are the last days, when the world shall be broken and remade. A new god shall be born from the graves and charnel pits."
Euron's going to try to make himself into a god in fact as well as in his own mind. I don't know whether it's going to work – after all, everyone else who knows about the prophecy of the "bleeding star" speaks of Azor Ahai or the Prince Who Was Promised, not the creation of any new god.
In the end, I'm still leaning towards him failing, if for no other reason than it doesn't make much sense for GRRM to over-shadow the White Walkers' big moment. And because I don't want to lose $20.