"He watched the sail grow for a long time, trying to decide whether he would sooner live or die."
Synopsis: Davos may never die, but rises again, harder and stronger.
SPOILER WARNING: This chapter analysis, and all following, will contain spoilers for all Song of Ice and Fire novels and Game of Thrones episodes. Caveat lector.
Political Analysis:
A great writer once said that, in order to properly build up dramatic tension, you have to push your character out on a limb and then saw through it. You couldn't follow that advice more closely than with Davos I, which is why his story line in A Storm of Swords is one of the best in all of ASOIAF. (Incidentally, though I'm going to try my level best, it's pretty hard to out-do PoorQuentyn when it comes to analyzing Davos, so you should probably read his stuff first.) It begins with the protagonist in one of the worst situations imaginable: marooned on a barren rock, assailed by the ravages of disease, exposure, dehydration, starvation, and disease:
"For days now the fever had been burning through him, turning his bowels to brown water and making him shiver in his restless sleep. Each morning found him weaker. It will not be much longer, he had taken to telling himself."

"If the fever did not kill him, thirst surely would. He had no fresh water here, but for the occasional rainfall that pooled in hollows on the rock. Only three days past (or had it been four? On his rock, it was hard to tell the days apart) his pools had been dry as old bone, and the sight of the bay rippling green and grey all around him had been almost more than he could bear. Once he began to drink seawater the end would come swiftly, he knew, but all the same he had almost taken that first swallow, so parched was his throat. A sudden squall had saved him. He had grown so feeble by then that it was all he could do to lie in the rain with his eyes closed and his mouth open, and let the water splash down on his cracked lips and swollen tongue. But afterward he felt a little stronger, and the island's pools and cracks and crevices once more had brimmed with life."

"And if not thirst or fever, starvation would kill him. His island was no more than a barren spire jutting up out of the immensity of Blackwater Bay. When the tide was low, he could sometimes find tiny crabs along the stony strand where he had washed ashore after the battle. They nipped his fingers painfully before he smashed them apart on the rocks to suck the meat from their claws and the guts from their shells."

"Once, in desperation, he had tried rubbing two pieces of driftwood against each other, but the wood was rotted, and his efforts earned him only blisters. His clothes were sodden as well, and he had lost one of his boots somewhere in the bay before he washed up here."
This is Man vs. Nature, stripped of any of the bowdlerized romanticism of Robinson Crusoe or Swiss Family Robinson. The body is systematically stripped of agency and dignity, nature offers little bounty and much danger, and survival is a constant losing battle for the barest scraps of sustenance.  But what makes it something more than an attempt to copy Hemingway is that Davos is simultaneously eroding from within, worn down by grief, guilt, and battlefield trauma:
 "Thirst; hunger; exposure. They were his companions, with him every hour of every day, and in time he had come to think of them as his friends. Soon enough, one or the other of his friends would take pity on him and free him from this endless misery. Or perhaps he would simply walk into the water one day, and strike out for the shore that he knew lay somewhere to the north, beyond his sight. It was too far to swim, as weak as he was, but that did not matter. Davos had always been a sailor; he was meant to die at sea. The gods beneath the waters have been waiting for me, he told himself. It's past time I went to them."

"He watched the sail grow for a long time, trying to decide whether he would sooner live or die. Dying would be easier, he knew. All he had to do was crawl inside his cave and let the ship pass by, and death would find him."
Throughout this chapter, Davos is hounded by memories of the Battle of Blackwater, all the way from the fleet entering the bay to the destruction of the flight by wildfire, to how he managed to escape the flames and the wrecks by swimming under the boom chain. While the lengthy recitation (which I refrained from quoting because I'm not recapping that battle twice) is partially intended to remind the reader of what happened, since three years had passed between the publication of the two books, I think it's also suggesting a compulsive need to relive trauma.
As a result of Davos' inability to forget, he spends much of the chapter contemplating suicide. Thus, Davos I is not merely a story of the struggle for survival, but also about the struggle to want to survive, which is why the appearance of the ship is so important, because it forces Davos to confront the choice between life or death rather than passively submitting to the inevitable:
"But now there was a sail; only a speck on the horizon, but growing larger. A ship where no ship should be. He knew where his rock lay, more or less; it was one of a series of sea monts…Sailors called them spears of the merling king, and knew that for every one that broke the surface, a dozen lurked treacherously just below it. Any captain with sense kept his course well away from them."

"Davos watched the sail swell through pale red-rimmed eyes, and tried to hear the sound of the wind caught in the canvas. She is coming this way. Unless she changed course soon, she would pass within hailing distance of his meager refuge. It might mean life. If he wanted it. He was not sure he did."
The impossibility of the situation – the fact that the ship is still out in Blackwater Bay after the battle, that it's willing to patrol waters made treacherous by "spears of the merling king," the fact that Davos is alive at all – is an example of Deus Ex Machina (link) working as intended. While on one level, the ship is there to get Davos out of an impossible situation, on another level, it actually creates a whole new set of problems by intensifying his survivor's guilt.
A Man With Purpose
With the arrival of the boat, therefore, Davos had to confront the death of his four sons. The ancients summarized the way that war – especially civil war – inverts the natural order with Herodotus' maxim that "in peace, sons bury their fathers. In war, fathers bury their sons." The sheer scale of Davos' loss demands something more than history, answers that can only be found in tragedy – whether it's Macduff's chilling lament of "all my pretty ones? Did you say all? O hell-kite! All? What, all my pretty chickens and their dam/At one fell swoop?" or Lincoln's famous letter to Mrs. Bixby (which brings to mind poor unseen Marya Seaworth, whose reaction to these deaths we have yet to see):
Why should I live? he thought as tears blurred his vision. Gods be good, why? My sons are dead, Dale and Allard, Maric and Matthos, perhaps Devan as well. How can a father outlive so many strong young sons? How would I go on? I am a hollow shell, the crab's died, there's nothing left inside. Don't they know that?

…the Father protects his children, the septons taught, but Davos had led his boys into the fire. Dale would never give his wife the child they had prayed for, and Allard, with his girl in Oldtown and his girl in King's Landing and his girl in Braavos, they would all be weeping soon. Matthos would never captain his own ship, as he'd dreamed. Maric would never have his knighthood.

How can I live when they are dead? So many brave knights and mighty lords have died, better men than me, and highborn. Crawl inside your cave, Davos. Crawl inside and shrink up small and the ship will go away, and no one will trouble you ever again. Sleep on your stone pillow, and let the gulls peck out your eyes while the crabs feast on your flesh. You've feasted on enough of them, you owe them. Hide, smuggler. Hide, and be quiet, and die.
As this quote shows, Davos' grief is grounded in the obliteration of his line, which unites his sons' foreshortened lives and the truncation of their hopes for family and fortune with his own battered sense of self. As we've seen from Davos I onwards, the Onion Knight has always reconciled his two sides as both smuggler and knight through a story of upward social mobility. However painful it may have been to lose his fingers, and however much he might be too old to be anything other than a nouveau riche, Davos took pride in knowing that his sacrifice meant that his sons were knights born and raised. With his sons dead, not only is his sacrifice is made meaningless, but his very identity is called into question. Ironically, given the way in which his smuggler past has and will continue to keep him alive, Davos equates his smuggler identity with death and his knightly identity with deserving to live.
As we can see with his last few sentences, Davos' guilt is literally trying to kill him, not only because he survived the battle, but also because he blames himself for leading "his boys into the flame." At the same time, Davos' invocation of the Seven here is an interesting preview of the religious theme, with the paterfamilias of House Seaworth feeling as if he's fallen short of the standards that the gods have set – a subject I'll discuss more in a minute.
Encapsulating this complex bundle of loss, grief, and status anxiety, is the synecdoche of Davos' fingerbones:
His hand reached for his throat, fumbling for the small leather pouch he always wore about his neck. Inside he kept the bones of the four fingers his king had shortened for him, on the day he made Davos a knight. My luck. His shortened fingers patted at his chest, groping, finding nothing. The pouch was gone, and the fingerbones with them. Stannis could never understand why he'd kept the bones. "To remind me of my king's justice," he whispered through cracked lips. But now they were gone. The fire took my luck as well as my sons.
As we've seen in ACOK, the bones have always been a complicated symbol for Davos, representing both loyalty to Stannis and admiration for his uncompromising sense of justice, Davos' remarkable good fortune and the prospects of upward mobility, and most of all, the way in which his smuggler-side and knight-side are bound together in the inciting incident of running a blockade to deliver supplies to a caslte under siege. Their loss mirrors Davos' evolving relationship with Stannis: rather than gaining him status and land, service has brought him loss far more profound than a few fingertips, and (after his defeat at the Battle of Blackwater and his moral compromises made to get there) Stannis' judgement is no longer beyond question.
In his grief, Davos comes to associate his loss with the fire, and the fire with Melisandre. On one level, I think we're meant to see this as an irrational and unjust act of projection – Melisandre had nothing to do with the wildfire and will say as much when she next talks to the Onion Knight, and indeed all of her actions at Storm's End were directed toward averting the future she saw in her fires. On the other hand, Melisandre's one chapter from ADWD at least suggests that the Red Priestess has Davos' fingerbones, which points in the other direction and raises some serious questions. How did Melisandre get the fingerbones from the bottom of Blackwater Bay? Why does she want them? She mentions that "the strongest glamors are built of such things," but what illusion would she need that particular fetish for?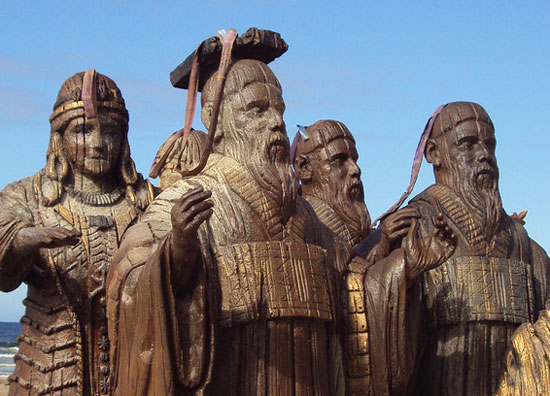 Speaking to the Mother
And here we get to what is, speaking frankly, the strangest and most confusing part of this chapter, where Davos experiences a full-blown religious epiphany. Now, this is the only time that the Seven appear to act at any time in ASOIAF, whereas we have already seen (and will continue to see) the followers of the Old Gods and R'hllor wielding supernatural power. Even then, the situation is rather ambiguous:
In his dreams the river was still aflame and demons danced upon the waters with fiery whips in their hands, while men blackened and burned beneath the lash. "Mother, have mercy," Davos prayed. "Save me, gentle Mother, save us all. My luck is gone, and my sons." He was weeping freely now, salt tears streaming down his cheeks. "The fire took it all… the fire…."

Perhaps it was only wind blowing against the rock, or the sound of the sea on the shore, but for an instant Davos Seaworth heard her answer. "You called the fire," she whispered, her voice as faint as the sound of waves in a seashell, sad and soft. "You burned us…burned us…burrrrned usssssss."

"It was her!" Davos cried. "Mother, don't forsake us. It was her who burned you, the red woman, Melisandre, her!" He could see her; the heart-shaped face, the red eyes, the long coppery hair, her red gowns moving like flames as she walked, a swirl of silk and satin. She had come from Asshai in the east, she had come to Dragonstone and won Selsye and her queen's men for her alien god, and then the king, Stannis Baratheon himself. He had gone so far as to put the fiery heart on his banners, the fiery heart of R'hllor, Lord of Light and God of Flame and Shadow. At Melisandre's urging, he had dragged the Seven from their sept at Dragonstone and burned them before the castle gates, and later he had burned the godswood at Storm's End as well, even the heart tree, a huge white weirwood with a solemn face.

"It was her work," Davos said again, more weakly. Her work, and yours, onion knight. You rowed her into Storm's End in the black of night, so she might loose her shadow child. You are not guiltless, no. You rode beneath her banner and flew it from your mast. You watched the Seven burn at Dragonstone, and did nothing. She gave the Father's justice to the fire, and the Mother's mercy, and the wisdom of the Crone. Smith and Stranger, Maid and Warrior, she burnt them all to the glory of her cruel god, and you stood and held your tongue. Even when she killed old Maester Cressen, even then, you did nothing.
It's worth noting that, in comparison to the flashier and more visible manifestation of other gods, this one remains rather ambiguous: a starving, dehydrated man in the throws of suicidal grief and PTSD who hears voices that could easily be hallucinations, and which just so happen to coincide with his previous thinking and opinions. It's also a strange moment because Davos' born-again convictions don't really last that long or become an enduring part of the character. That's not to say that he isn't an introspective person, but it's just that (after Davos II of ASOS) he's primarily going to be grappling with Melisandre's religion and the very human moral dilemmas that Stannis will pose him.
Indeed, a lot of Davos' dialogue here has a lot more to do with his projection of guilt and blame onto Melisandre – partially because people will almost anything to avoid intense feelings of guilt, and partially because he can't allow himself to blame Stannis (who after all, was the overall commander during the Battle of Blackwater). But as human as that impulse may be, what makes Davos admirable as a character (Westeros' most honest man, and all that) is that he doesn't let himself off the hook when it comes to culpability. As we saw in Davos II of ACOK, he's been an active participant in Stannis' morally ambiguous drive for the Iron Throne, but the onion knight goes further to point out that he was a participant (however reluctant) in the burning of the Seven on Dragonstone, and even blames himself for Cressen's death despite the fact that the old man  actively and insistently sought out his death.
Speaking of which, one of the truly enduring things to come out of this chapter is that Davos begins to move away from his slavish devotion to Stannis ("King Stannis is my god") to a position where he's internalized the idea of loyal service meaning fighting for what's in Stannis' best interest as opposed to what Stannis wants to do. This development is absolutely crucial to the onion knight's arc when he gets to Dragonstone and has to run a gauntlet of political and moral dilemmas.
Who Are You (Who, Who)?
While his born-again identity might be a passing phase, it's also important for this moment that Davos finds in the Mother a reason to live that pushes him past his suicidal depression. However, just wanting to live is not the solution to all of his problems, because he's instantly forced to solve his identity crisis as well :
If he fell he was dead, and he had to live. For a little while more, at least. There was something he had to do.

 "…Ship," he screamed into the wind. "Ship, here, here!" From up here, he could see her more clearly; the lean striped hull, the bronze figurehead, the billowing sail. There was a name painted on her hull, but Davos had never learned to read. "Ship," he called again, "help me, HELP ME!"

"…You," the fifth man called out when they were only a few feet from his island, "you up on the rock. Who are you?"

A smuggler who rose above himself, thought Davos, a fool who loved his king too much, and forgot his gods. "I…was in the battle. I was in the battle. I was…a captain, a…knight…"
I find this exchange fascinating, because the interior and exterior response is so wildly divergent. In his own mind, Davos' answer is a rueful, self-deprecatory reckoning with his own flaws, whether it's his social climber's pride, his unquestioning and unthinking devotion to Stannis, and his moral abdication when it came to Melisandre's reformation. But in his outward response, Davos presents himself as a ship's captain and a knight, because he knows that only "knights and lordlings…take each other captive and pay ransom," and he doesn't know which king the sailors are loyal to:
"Aye, ser," the man said, "and serving which king?"

The galley might be Joffrey's, he realized suddenly. If he spoke the wrong name now, she would abandon him to his fate. But no…The Mother sent her here, the Mother in her mercy. She had a task for him. Stannis lives, he knew then. I have a king still. And sons, I have other sons, and a wife loyal and loving. How could he have forgotten? The Mother was merciful indeed.

"Stannis," he shouted back at the Lyseni. "Gods be good, I serve King Stannis."
Faced with an uncertain choice, where the wrong answer could mean a slow death at worst and capture at best, Davos, the most honest man and most loyal lord in all of Westeros, chooses to tell the truth. And while Salladhor Saan's striped sails make his choice easier, Davos would never have given any other answer. At the same time, Davos' loyalty goes further than just picking a side – he doesn't say merely that he fought for one side, or that his allegiance was to one side, but that he serves Stannis and that to abandon him now would be to leave him with only Melisandre and the Florents for counsel. More importantly, the question of identity to the question of purpose is accomplished through a crucial act of recollection: in the face of the tunnel vision of grief, Davos remembers that he still has a family who needs him, for whom his suicide would have been an unforgivably selfish betrayal at their moment of need.
Historical Analysis:
While it may seem implausible that Davos could survive his ordeal at Blackwater Bay, history gives us some amazing examples of mariners who made it through far worse – proof that the very real frailty of the human frame is counter-balanced by an astonishing capacity for survival:
Gonzalo de Vigo, who holds the record of being the first recorded European castaway in the Pacific Ocean, was a Spanish sailor who deserted from Magellan's convoy in 1522. Gonzalo apparently integrated well into the native Chamorros people of the Maug Islands (which was lucky for him since the two other deserters were killed by the Chamorros) and lived with them for four years touring the nearby Marianas Islands. We know this because de Vigo was found by the Loaísa Expedition in 1526 in Guam, some 456 miles from where he originally deserted, and recorded his experiences. A rather impressive solo sailor, you must admit.
Marguerite de La Rocque may be the most famous female castaway. A French noblewoman who was journeying to Quebec in 1542 along with her relative Jean-François de La Rocque de Roberval (who had recently been named Lieutenant General of New France), the unmarried Marguerite had an affair with a young man on board. Either motivated by his strong Calvinist faith or a a desire to usurp her inheritance, Roberval marooned Marguerite on (I kid you not) the Isle of Demons at the mouth of the St. Lawrence River. With minimal tools and supplies and the active presence of both wolves and bears, Marguerite managed to survive on the Isle of Demons despite the death of her lover, her maid-servant, and her baby, for three years before getting a ride back home from a group of Basque fishermen.
Abraham Leeman and co. might be one of the most impressive cases, combining both hideous bad luck and ingenuity. Upper Steersman Leeman and his crew of 13 were members of the crew of the Waeckende Boey, a Dutch East India Compnay ship that in March of 1658 was searching for the shipwrecked crew of the Vergulde Draeck (a famous castaway story in its own right). Somehow during the search, Leeman and his men were abandoned in a small, rickety boat with almost no supplies and no water, roughly 100 miles north of Perth.  Somehow, Leeman and crew managed to supply themselves by killing seals for meat and hides to repair their boat, digging a well on the island they had been abandoned off, and constructing a makeshift compass. They then sailed 1,550 miles from the western coast of Australia to the island of Java, where they proceeded to shipwreck, and then walk all the way around the southern coast of Java.
What If?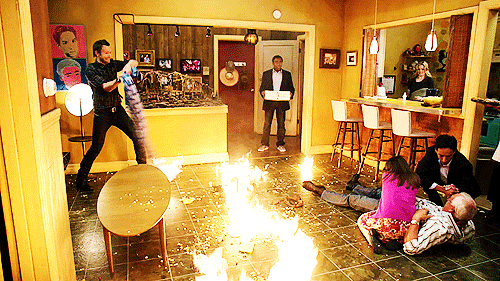 In a chapter whether the only real question is whether the protagonist will live or die, there really is only one hypothetical worth considering:
Davos had died? This is clearly the darkest timeline imaginable, and the consequences make it quite clear. First of all, Axell Florent becomes Hand of the King, which means that Stannis stays at Dragonstone and wastes his time sacking Claw Isle rather than sailing to the Wall in time, which quite likely means that Stannis is there when Loras Tyrell attacks. In those circumstances, Stannis definitely decides that Edric Storm has to die to save the world. However, rather than a true birth of a dragon (link), an uncontrollable horrible shadow-beast is birthed, likely destroying both fleets at harbor. Thus, when Daenerys comes back to the place of her birth, she will find only death and destruction.
At the same time, Mance's wildling army storms over the Wall, massacring the Night's Watch (including the turncloak Jon Snow) along the way. They run headlong into Roose Bolton and a savage, no-holds-barred war erupts in which Ramsay's sadism is pitched against that of Harma Dogshead and the Weeper. The only hope left is that the Others will come across the now-profaned Wall and put us all out of our misery.
Book vs. Show:
As I have said before, one of the places where the HBO show has consistently fallen short compared to the books is in expressing the interiority of its characters. Many show-first readers have expressed real amazement at how much richer characters like Ned Stark are on the page, where you get their interior monologue.
While I would generally be opposed to HBO resorting to voice-over – as a fan of noir, I'm not opposed to that technique but it doesn't suit fantasy in the same way it does detective fiction – I do think there alternatives that the show has not explored. The soliloquy may be a trifle theatrical as writing techniques go, but there's a reason why it has endured for thousand and thousands of years as a staple vehicle for allowing characters to express themselves more artfully than baldly stating their motivations and desires to one another in awkward, unrealistic conversations.
This scene in the show is perfectly suited for a soliloquy; if there is any point in someone's life where they need to vent their emotions and curse the gods, this is it. And while I'll never say a negative word about Liam Cunningham's performance as Davos Seaworth – as far as I'm concerned, he is Davos Seaworth and always will be – I don't think the Season 3 script quite did him justice. In this specific instance, Davos' shift to wanting to kill Melisandre comes out of nowhere, because without verbalizing his religious experience here, the viewer has no context for why he feels this need.
You know what's great for communicating these kind of psychological changes? A soliloquy.