"Them as own all this won't like that much."
"I never imagined they would. So be it; they'll have something else to curse the evil monkey demon for."
Synopsis: as Stannis' army nears King's Landing, Tyrion organizes the defenses of the city.
SPOILER WARNING: This chapter analysis, and all following, will contain spoilers for all Song of Ice and Fire novels and Game of Thrones episodes. Caveat lector.
Political Analysis:
With Tyrion XI, we have arrived at the beginning of the main event of A Clash of Kings, the Battle of the Blackwater. It is a hugely ambitious effort on GRRM's part: rather than confining a battle to one chapter or having it happen off-screen, the battle stretches across nine chapters; rather than having one POV character observe the battle, we have three POV characters, with Tyrion giving us the defenders' side, Davos the attacker's side, and Sansa showing us the impact of the battle on the civilian population. And as I'll be discussing both on the podcast and in the Historical Analysis section, GRRM draws on some of the most famous sieges in history to give the battle structure, military logic, and sheer scope of drama.
Shaping Operations
However, it's also a battle that begins quite gradually, so the first couple chapters will mostly be table-setting. To begin with, we start with a couple opening moves where we see Tyrion trying to shape the battle to his advantage:
Timett had taken his Burned Men into the kingswood two days before. Yesterday the Black Ears and Moon Brothers followed, today the Stone Crows.

"Whatever you do, don't try and fight a battle," Tyrion said. "Strike at their camps and baggage train. Ambush their scouts and hang the bodies from trees ahead of their line of march, loop around and cut down stragglers. I want night attacks, so many and so sudden that they'll be afraid to sleep—"

Shagga laid a hand atop Tyrion's head. "All this I learned from Dolf son of Holger before my beard had grown. This is the way of war in the Mountains of the Moon."

"The kingswood is not the Mountains of the Moon, and you won't be fighting Milk Snakes and Painted Dogs. And listen to the guides I'm sending, they know this wood as well as you know your mountains. Heed their counsel and they'll serve you well."
As I learned from BryndenBFish, a shaping operation is defined as "an operation at any echelon that creates and preserves conditions for the success of the decisive operation. Shaping operations establish conditions for the decisive operation through effects on the enemy, population, and terrain." Here we see Tyrion trying to use the terrain to his best advantage – the dense forest of the kingswood as a force multiplier for his mobile guerrilla-style mountain men – to try to slow down Stannis and buy more time, while demoralizing Stannis' forces. And while it's not intentional, this operation is also successful in ensuring that Stannis is denied military intelligence that might have revealed the Tyrell center and vanguard south of the river.
The downside is that this means that Tyrion has 150 fewer men to man the walls. And Tyrion's major shortcoming in commanding the defense is, ironically given how much he's focused on supply issues, not starvation or lack of war materiel, but the quantity and quality of his troops:
He still had Bronn's hirelings, near eight hundred of them now, but sellswords were notoriously fickle. Tyrion had done what he could to buy their continued loyalty, promising Bronn and a dozen of his best men lands and knighthoods when the battle was won. They'd drunk his wine, laughed at his jests, and called each other ser until they were all staggering…all but Bronn himself, who'd only smiled that insolent dark smile of his and afterward said, "They'll kill for that knighthood, but don't ever think they'll die for it."

Tyrion had no such delusion.

The gold cloaks were almost as uncertain a weapon. Six thousand men in the City Watch, thanks to Cersei, but only a quarter of them could be relied upon. "There's few out-and-out traitors, though there's some, even your spider hasn't found them all," Bywater had warned him. "But there's hundreds greener than spring grass, men who joined for bread and ale and safety. No man likes to look craven in the sight of his fellows, so they'll fight brave enough at the start, when it's all warhorns and blowing banners. But if the battle looks to be going sour they'll break, and they'll break bad. The first man to throw down his spear and run will have a thousand more trodding on his heels."

To be sure, there were seasoned men in the City Watch, the core of two thousand who'd gotten their gold cloaks from Robert, not Cersei. Yet even those . . . a watchman was not truly a soldier, Lord Tywin Lannister had been fond of saying. Of knights and squires and men-at-arms, Tyrion had no more than three hundred. Soon enough, he must test the truth of anotheer of his father's sayings: One man on a wall was worth ten beneath it.

…Tyrion Lannister walked his horse slowly toward the Mud Gate. Winterfell is nothing to you, he reminded himself. Be glad the place has fallen, and look to your own walls. The gate was open. Inside, three great trebuchets stood side by side in the market square, peering over the battlements like three huge birds. Their throwing arms were made from the trunks of old oaks, and banded with iron to keep them from splitting. The gold cloaks had named them the Three Whores, because they'd be giving Lord Stannis such a lusty welcome. Or so we hope.
Taking Tyrion's estimates at his word, Tyrion has 1,500 reliable men among the goldcloaks, plus the 800 mercenaries, plus 300 Lannistermen, for a total of 2,600 reliable soldiers. Given that Stannis has ~21-25,000 men, Tyrion is well below the number he needs, even given the normal 1:3 advantage for defenders; even if all of Tyrion's men were reliable, he would still be just barely above the line. Hence, Tyrion knows that he cannot win a standup fight against Stannis, even with the advantage of the walls. And so he'll have to cheat – hence Tyrion's strategy will turn on the two things that GRRM has Tyrion not think about in this chapter, in order to build the tension.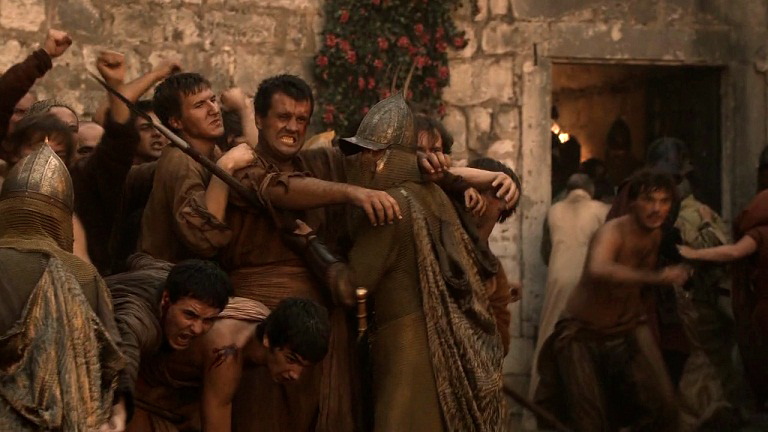 In another form of shaping operations, Tyrion also engages in scorched earth tactics to deny Stannis a protected landing:
He was a deal less pleased by the clutter of ramshackle structures that had been allowed to grow up behind the quays, attaching themselves to the city walls like barnacles on the hull of a ship; bait shacks and pot-shops, warehouses, merchants' stalls, alehouses, the cribs where the cheaper sort of whores spread their legs. It has to go, every bit of it. As it was, Stannis would hardly need scaling ladders to storm the walls.

He called Bronn to his side. "Assemble a hundred men and burn everything you see here between the water's edge and the city walls." He waved his stubby fingers, taking in all the waterfront squalor. "I want nothing left standing, do you understand?"

The black-haired sellsword turned his head, considering the task. "Them as own all this won't like that much."

"I never imagined they would. So be it; they'll have something else to curse the evil monkey demon for."
Tyrion's attention to detail is critical, one of the many factors that could have meant the difference between victory and defeat for either side. In addition to the quays that could have allowed Ser Imry Florent's surviving landing parties to disembark much more quickly, these "ramshackle structures" would have denied the defenders up on the wall a clear field of fire, and allowed Stannis' men to assemble into disciplined formations that could have withstood sorties from the city.
However, this is also, in microcosm, this is also a sign of a major shortcoming in Tyrion's character. For a good cause, he'll engage in brutal action directed against some of the poorest of the people in the city. And this willingness to act like the "evil monkey demon" who fights for the city that hates and fears him, without thinking about whether he could be seen any other way, badly handicaps his political future.
God(s) On Our Side
A final kind of shaping operation is Tyrion making use of the upswelling of religious fervor as a weapon against Stannis, whose conversion to R'hllorism proves to be something of a double-edged sword:
"I want the gods on our side," Tyrion told him bluntly. "Tell them that Stannis has vowed to burn the Great Sept of Baelor."

"Is it true, my lord?" asked the High Septon, a small, shrewd man with a wispy white beard and wizened face.

Tyrion shrugged. "It may be. Stannis burned the godswood at Storm's End as an offering to the Lord of Light. If he'd offend the old gods, why should he spare the new? Tell them that. Tell them that any man who thinks to give aid to the usurper betrays the gods as well as his rightful king."
This is such a good political move – mobilizing the hegemonic faith of the common people in the Seven at a time when they have absolutely none in the king – that my main question is why Tyrion didn't do it sooner and more often. After all, while Tyrion can't change the way he looks or change the way Joffrey behaves, there's no reason why he can't start acting more publicly pious, going to sept frequently, distributing alms to the poor, etc. And as Hand of the King, Tyrion's taken a further step in this process by naming a new High Septon. This reminds me, why didn't Tyrion make use of the High Septon when his political situation got rockier in ASOS?
Wildfire Industrial Production Up 3000%!
And with that out of the way, let's get back to the war effort, and specifically Tyrion's attempt to use wildfire as his silver bullet. Outnumbered and outclassed by Stannis' army, Tyrion plans to do the only thing a responsible defender would do: cheat. While Tyrion is still not thinking about his chain in a rather dubious use of limited third-person narration, here he's making use of wildfire much as the Byzantines used "greek fire", to use firepower to trump manpower.
And at this moment, we get some new information that radically changes how wildfire will operate in the Battle of Blackwater:
Only then did he admit Hallyne with the latest tallies from the alchemists. "This cannot be true," said Tyrion as he pored over the ledgers. "Almost thirteen thousand jars? Do you take me for a fool? I'm not about to pay the king's gold for empty jars and pots of sewage sealed with wax, I warn you."

"No, no," Hallyne squeaked, "the sums are accurate, I swear. We have been, hmmm, most fortunate, my lord Hand. Another cache of Lord Rossart's was found, more than three hundred jars. Under the Dragonpit! Some whores have been using the ruins to entertain their patrons, and one of them fell through a patch of rotted floor into a cellar. When he felt the jars, he mistook them for wine. He was so drunk he broke the seal and drank some."

…"Yes, yes, that's so." Hallyne mopped at his pale brow with the sleeve of his black-and-scarlet robe. "We have been working very hard, my lord Hand, hmmm."

"That would doubtless explain why you are making so much more of the substance than before." Smiling, Tyrion fixed the pyromancer with his mismatched stare. "Though it does raise the question of why you did not begin working hard until now."

Hallyne had the complexion of a mushroom, so it was hard to see how he could turn any paler, yet somehow he managed. "We were, my lord Hand, my brothers and I have been laboring day and night from the first, I assure you. It is only, hmmm, we have made so much of the substance that we have become, hmmm, more practiced as it were, and also"—the alchemist shifted uncomfortably—"certain spells, hmmm, ancient secrets of our order, very delicate, very troublesome, but necessary if the substance is to be, hmmm, all it should be…"

Tyrion was growing impatient. Ser Jacelyn Bywater was likely here by now, and Ironhand misliked waiting. "Yes, you have secret spells; how splendid. What of them?"

"They, hmmm, seem to be working better than they were." Hallyne smiled weakly. "You don't suppose there are any dragons about, do you?"
There's a lot to unpack here. To begin with, let's talk about how this news changes Tyrion's strategy. Remember, previously Tyrion had largely been planning to use the wildfire from siege engines, albeit in a more disciplined fashion. Now that he has almost twice as many jars as he had approximately five months ago, Tyrion can now use the wildfire on a totally different scale, while still having an ample supply to use from the walls. By creating a fleet of fireboats with which he will attempt to destroy Stannis' naval superiority, Tyrion can as far as possible avoid having to fight Stannis' full army. Thus, much in the same way that Robb used geography to establish local superiority at the Battle of the Camps, Tyrion hopes to render the vast bulk of Stannis' army strategically irrelevant.
At the same time, I think we can also see here GRRM laying the groundwork for how to have his lopsided, hopeless struggle against overwhelming odds and eat it too, much as he does in ASOS with the Battle of Castle Black. Just as the Wall focuses the conflict to the gate and the climbers, here the river allows Tyrion to credibly mount his heroic sortie without having to confront Stannis' entire army. And in both cases, he quietly sets up the groundwork for a deus ex machina that feels natural, as opposed to, well…mechanical.
On an entirely different note, this is also a moment where we the reader get to luxuriate in knowing more than Tyrion, as GRRM carefully drip-feeds information about Dany, the dragons, and the return of magic to his characters in Westeros. One of the things I disliked about Season 3 of Game of Thrones is the way that they had the news about Dany and her dragons leak way too quickly – less than three episodes pass between the sack of Astapor and the news that Dany has successfully hatched dragons reaching King's Landing completely accurately. Not only does this mean that we don't get to see Varys mis-informing the Small Council (a key clue to his true loyalties), but we also get an inaccurate sense of how long it takes information to get from one part of the world to another. And it's done for a really peculiar reason – having Tywin send a letter to Jorah granting his pardon, so that Dany would have a reason to exile him, which always struck me as a particularly ineffective strategy for ensuring that she stays in Slaver's Bay. Moreover, since Jorah already had that letter in his possession, it wouldn't have been that difficult for someone to have found it and brought it to Ser Barristan without any such scene with Tywin.
Politics Break
And now, a break for politics! First things first, following the old analogy in public policy that "personnel is policy," as appointees naturally carry their ideas into their work rather than acting as entirely neutral instruments of the elected official's will. Thus, in the aftermath of the King's Landing riot, we get new kingsguard:
He approved of his sister's choice of Ser Balon Swann to take the place of the slain Preston Greenfield. The Swanns were Marcher lords, proud, powerful, and cautious. Pleading illness, Lord Gulian Swann had remained in his castle, taking no part in the war, but his eldest son had ridden with Renly and now Stannis, while Balon, the younger, served at King's Landing. If he'd had a third son, Tyrion suspected he'd be off with Robb Stark. It was not perhaps the most honorable course, but it showed good sense; whoever won the Iron Throne, the Swanns intended to survive. In addition to being well born, young Ser Balon was valiant, courtly, and skilled at arms; good with a lance, better with a morningstar, superb with the bow. He would serve with honor and courage.

Alas, Tyrion could not say the same for Cersei's second choice. Ser Osmund Kettleblack looked formidable enough. He stood six feet and six inches, most of it sinew and muscle, and his hook nose, bushy eyebrows, and spade-shaped brown beard gave his face a fierce aspect, so long as he did not smile. Lowborn, no more than a hedge knight, Kettleblack was utterly dependent on Cersei for his advancement, which was doubtless why she'd picked him. "Ser Osmund is as loyal as he is brave," she'd told Joffrey when she put forward his name. It was true, unfortunately. The good Ser Osmund had been selling her secrets to Bronn since the day she'd hired him, but Tyrion could scarcely tell her that.
With the case of Balon Swann, we get an interesting glimpse into feudal politics. House Swann's absence from the battlefield is a partial solution to the question of what was going on with the Stormlands' military numbers. In retrospect, House Swann's absence from the battlefield to date and their status as marcher lords might well suggest that they are secret Blackfyre loyalists waiting for the Golden Company to land in the Stormlands. On the other hand, the fact that a noted Targaryen loyalist like Barristan Selmy squired for a Swann in his youth sort of counts against that. At the same time, it's good to see the Lannisters actually playing the feudal politics game for once rather than trying to rule absolutely without the ability to do so.
With the case of Osmund Kettleblack, however, we see a number of different threads coming together: Cersei's plot to bring down Margaery gets its catspaw and its Achilles' heel, at the same time that Littlefinger's infiltration of the royal court with his own secret partisans begins to bear fruit. At the same time, I remain convinced that the Kettleblacks in general and Ser Osmund in particular are useless instruments that will fail everyone and anyone who relies on them, including their master in the Vale.
Finally, we turn to the news that, in addition to the south learning that the Starks have lost Winterfell, Balon Greyjoy has reached out to the Lannisters for an alliance, only the second time that a faction of the War of Five Kings has reached out to another (the first being Robb Stark reaching out to Renly):
[The gods] had given the Starks Harrenhal and taken Winterfell, a dismal exchange. 

No doubt he should be rejoicing. Robb Stark would have to turn north now. If he could not defend his own home and hearth, he was no sort of king at all. It meant reprieve for the west, for House Lannister, and yet…

…a more intriguing [letter] from Balon Greyjoy on Pyke, who styled himself King of the Isles and the North. He invited King Joffrey to send an envoy to the Iron Islands to fix the borders between their realms and discuss a possible alliance.

Tyrion read the letter three times and set it aside. Lord Balon's longships would have been a great help against the fleet sailing up from Storm's End, but they were thousands of leagues away on the wrong side of Westeros, and Tyrion was far from certain that he wanted to give away half the realm. Perhaps I should spill this one in Cersei's lap, or take it to the council.
As comes as no surprise to people who've read my Theon chapters, I don't really think much of Balon Greyjoy as a political or military leader and this move is no exception. On an ideological level, I find hilarious that the same man who disdained Theon for trying to make an alliance with the Starks is going hat in hand to the Lannisters in a stunning show of hypocrisy regarding the Iron Price. On a realpolitik level, I'm in agreement with Tywin Lannister (which rarely happens) that Balon massively screwed up by attacking the North and then asking for an alliance in that order.
A couple other things to note: first, it's interesting that Tyrion has this running thread of being a Stark sympathizer. Given the direction of his plot in ADWD, this doesn't seem to have much of a payoff, so I wonder whether this is a leftover from the Ur-Text where Tyrion's storyline was supposed to revolve around the Starks and Winterfell?
Second, despite Tyrion's accurate perspective that the loss of Winterfell is a massive political setback for Robb Stark, I don't necessarily agree that Robb is now obligated to quit the war in the Riverlands. At the moment, Winterfell is so lightly held that it's overwhelmingly likely that Ser Rodrick Cassel can retake the castle and begin the process of rallying the North to expel the Ironborn. And indeed, if not for the sudden intervention of Ramsay Snow, Robb would have retaken Winterfell and taken Theon prisoner, which would be enough to keep his northern lords on-side for at least one more campaign.
The Antler Men
So finally, we move to the Antler Men, partisans of Stannis Baratheon who sought to open the gates to the man they considered to be the rightful king. As I've suggested before, the ASOIAF fandom has a tendency to underestimate Stannis' potential to inspire loyalty, simply because he's unpopular among the nobility. But among the contenders in the War of Five Kings, you could only say that Robb Stark has been able to call forth the same devotion from people who never knew him (and even then, the North rises in ADWD as much or more for Ned than for his son). Moreover, the existence of the Antler Men throws into question Tyrion's argument that his actions, however brutal they might be, are ultimately for the salvation of the civilian population of King's Landing. Especially in the wake of the King's Landing riot, it might well be argued that at least part of the city welcomed the overthrow of their Lannister overlords:
"I know some of these names. These are rich men. Traders, merchants, craftsmen. Why should they conspire against us?"

"It seems they believe that Lord Stannis must win, and wish to share his victory. They call themselves the Antler Men, after the crowned stag."

"Someone should tell them that Stannis changed his sigil. Then they can be the Hot Hearts." It was no matter for jests, though; it appeared that these Antler Men had armed several hundred followers, to seize the Old Gate once battle was joined, and admit the enemy to the city. Among the names on the list was the master armorer Salloreon. "I suppose this means I won't be getting that terrifying helm with the demon horns," Tyrion complained as he scrawled the order for the man's arrest.
While we might conclude that the craftsmen of King's Landing might be reacting to their economic privations, the destruction of their property, and being forcibly drafted into the war effort on threat of mutilation or imprisonment, Tyrion's tenure as Master of Coins in A Storm of Swords raises a new question. How did Littlefinger get the various traders and merchants who owed money to the crown or who had bribed him for royal office onto the list? Unless Littlefinger managed to pull one over on Varys by somehow infiltrating his spy network (which seems unlikely, given the lack of corroborating evidence), my guess is that Varys simply didn't care. After all, if Littlefinger destabilizes the Lannister monarchy by eliminating its debtors and allowing his embezzlement to continue, this serves Varys' long-term purposes of destabilizing the Lannister regime while being too long-term to prevent the Lannisters from stopping Stannis at the gates of King's Landing.
There's also one element of this story where I think GRRM made a world-building error, but I'll discuss that in the What If? section.
Historical Analysis:
In the Battle of Blackwater week, both in the essays and in the podcast, I'll be discussing in depth the singular historical parallel for this conflict: the great city of Constantinople and two of the most famous sieges in a city with a history of sieges, the Second Arab Siege of 717-718 CE and the Fourth Crusade of 1202-4. Incidentally, I cannot recommend highly enough the History of Byzantium podcast. If my historical analysis awakens an appetite for more on the history of the Eastern Roman Empire, 86 podcasts await you online.
Before I get into the details of those sieges in  future chapters, I want to set out why I think the parallel is apt, and that's ultimately a question of geography and politics. Let us begin with the geography:
In 324 CE, when Constantine the Great came out of the west and arrived at the Greek city of Byzantium, he found a city seemingly designed by nature to be impossible to take in a siege. Indeed, the later inhabitants of the city would claim, with some justification, that God himself had made their city invincible, and had divinely inspired the first Christian Emperor of Rome to choose this place as his future capital, his new Rome. Divine inspiration or no, Constantine was too experienced a commander to ignore the defensive advantages that geography afforded him. Situated on a peninsula where the Bosphorus met the Golden Horn, the future Constantinople had water on three sides, meaning that it could only be attacked by land from one direction. Moreover, as so many would-be conquerors found to their dismay, the waters of the Propontis and the Bosphorus flow into one another in such a way to create a treacherous current that reaches 7-8 knots, requiring frequent course alterations to cross the crucial straits that connect the Mediterranean to the Black Sea, and making landing and anchoring extremely difficult. Any enemy seeking to take Constantinople by sea would have to brave those currents, while the city's own navy could sally forth with the current at their backs and retreat to protected harbors.
When Aegon the Conqueror – another conqueror who had been hailed as a destined leader early in his life, who brought a new order of things to an entire world – came to Blackwater Bay, he beheld a similar sight:
"it was Aegon who saw a great royal city to rival and surpass Lannisport and Oldtown spring up around his crude Aegonfort. …where once only fishing boats were seen, now cogs and galleys from Oldtown, Lannisport, the Free Cities, and even the Summer Isles began to appear as the flow of trade shifted from Duskendale and Maidenpool to King's Landing. The Aegonfort itself grew larger, bursting past its initial palisade to encompass more of Aegon's High Hill, and a new wooden keep was raised, its walls fifty feet high. It stood until 35 AC, when Aegon tore it down so that the Red Keep could be raised as a castle fit for the Targaryens and their heirs." (WOIAF, loc. 1245)
On the southeastern hill, he could raise his Aegonfort and would have water on three sides, a formidable natural defense. The bay and the river, and the natural harbor they formed, would give him simultaneously access to the Valyrian-held islands of Blackwater Bay and the Free Cities beyond and access to the interior of the continent via the Blackwater Rush. Any enemy that would come against would have to come from the north or west and hit the great walls he ordered built.
And in both cases, the city itself became the synecdoche of the empire.
Especially with the waning and waxing of the Byzantine Empire's eastern and western borders which lacked strong natural barriers (especially once the Danube fell), the city of Constantinople became the Empire to its citizens. Time and again, the Empire would see its provinces lost, driven back to the walls of the city; time and time again, the Empire would rally and conquer vast swathes of territory. No matter how much territory a rebel seized, without the imperial capitol itself they were a mere pretender to the purple; vice versa, many emperors began their reigns with only the city acknowledging them as the heir of Constantine the Great.
As for Westeros, the inextricable link between the shock and awe of Aegon's dragon-led Conquest and the forging of the Iron Throne from the swords of his enemies made the Iron Throne's location the immovable capitol of the Targaryens and the most dramatic symbol of the monarchy itself. As far as the population of Westeros is concerned, he who sits the Iron Throne of Westeros must be the King – even if it's actually the Hand of the King – and if the Iron Throne rejects the person sitting on it, they are no true King at all.
And so, to seize either empires, you must take the capitol, overcome every natural and man-made obstacle. And in future installments, I'll show how armies have failed and succeeded in their mission.
What If?
So for the most part, there's not a huge scope for hypotheticals in this chapter, but there are a couple of interesting scenarios:
Mountain clans not sent out? If Tyrion had decided that he needed all hands on deck to man the walls and hadn't sent out the mountain clans to invade the forest, a couple things change. First, Stannis' advance is moved up somewhat and the morale of his forces improved – although given that the key variable for when the battle starts is Stannis' navy and not his land forces, the battle itself happens at the same time.
Second, it's possible that Stannis' outriders might have detected the Tyrell forces as they got in place for their flank attack. Had Stannis been aware of this threat, his battle strategy might have changed dramatically. Given the ample time and raw materials he has to prepare his defenses, Stannis would certainly have had earthworks and stakes in place to blunt the Tyrell cavalry charge – indeed, he may have had time to build a wooden wall protecting his flank, forcing the Tyrells to make their own assault rather than slam into his exposed side unawares. Certainly, Stannis' men would have performed better – as any number of historical and present-day examples show, even green troops will generally hold even against unfavorable odds and heavy losses, as long as they're attacked from the front and their flanks are secure. By contrast, even a small force attacking from the flank and rear stands a good chance of routing a numerically superior foe.
Antler Men not found out? Here's where I think GRRM might have made a worldbuilding error. The Old Gate of King's Landing is on the north side of the city, on the complete opposite side of the battle. Given that Stannis' forces are all on the southern side of the city, opening that gate is militarily useless – leaving aside whether they could have marched all the way around the city before Tyrion could have made use of interior lines to move his forces to block them, there's no way for Stannis' army to see that the Old Gate has been opened. Now, if the Antler Men had opened the Lion Gate or the King's Gate on the southwestern side, or the Iron Gate or the Dragon Gate on the eastern side, these would have posed a genuine danger to Tyrion's defenses.
If those gates had been opened at the beginning of the battle, Stannis' army could have made use of them. In the case of the Lion Gate or the King's Gate, the landing parties that were repulsed in OTL could have taken the gates there, likely causing Tyrion's army to break ahead of schedule, and allowing parts of Stannis' army to take the city and besiege the Red Keep. Likewise, in the case of the Iron Gate or the Dragon Gate, Stannis could have used his Lyseni ships that remained in the bay to trans-ship his land forces on the far side of the boom chain, negating Tyrion's entire stratagem.
Book vs. Show:
The show, unfortunately, can't go into all of these subtleties, hemmed in as it was by severe budgetary constraints. Most fans were focused largely on the omission of Tyrion's boom chain, which was a real loss, but as we can see in this chapter, there were a lot of subtleties and nuances that had to be omitted from the show.
More on this in future installments.