She would wear her new gown for the ceremony at the Great Sept of Baelor…that must be why Cersei is having it made for me, so I will not look shabby at the wedding.
Synopsis: Sansa gets a new dress, goes hawking with Margaery, and has a conversation with Ser Dontos.
SPOILER WARNING: This chapter analysis, and all following, will contain spoilers for all Song of Ice and Fire novels and Game of Thrones episodes. Caveat lector.
Political Analysis:
Sansa II of ASOS is not a beloved part of ASOIAF – over on Tower of the Hand, it's ranked 80th out of 82 chapters in A Storm of Swords, and 333rd out of 344 chapters in the entire series. And I can't agree at all, because on re-read I found this to be a fascinating chapter.
Part of the difficulty might be that George R.R Martin seems to be doing a bit of an experiment with this chapter, in which all of the plot is happening in the wings where the reader but not the protagonist is aware of what's going on. That's not the same thing as a chapter not having a plot – in this chapter alone, we see the Purple Wedding, the Red Wedding, Sansa's wedding, and the power struggle between the Tyrells and Lannisters all getting underway – but because GRRM wants to keep these events a secret until he springs the surprise later, and because there isn't a plausible way for Sansa to be directly observing them, not much appears to be happening on a surface level.
Even with that being the case, this chapter still has a lot going on if you look it as part of a larger escape drama, a genre that isn't always about moments of pulse-pounding action but about the smaller moments of tension and release as people make impossible choices in incredibly constrained circumstances…
Chekov's Dress
Then again, I think that no small part of the backlash is that the main event of the chapter (as opposed to events that Sansa recalls) is Sansa getting a new dress, and it's been a while since ASOIAF's most feminine character had so feminine a chapter. I'm not claiming to be perfectly enlightened on this issue – growing up, I tended to focus on media and genres and characters and creators that were pretty solidly although not exclusively male, and although I've definitely improved on that front as I've matured, I know I have progress to make. And fashion particularly is an area where I have not made progress; as people who've watched my videos can no doubt tell, I only own multiple copies of the same outfit and it was something of a major step for me when I started wearing red shirts in addition to blue shirts. So when I first read this chapter in 2000, I probably didn't appreciate why GRRM was spending this much time on Sansa's dress:
"A new gown?" she said, as wary as she was astonished.

"More lovely than any you have worn, my lady," the old woman promised. She measured Sansa's hips with a length of knotted string. "All silk and Myrish lace, with satin linings. You will be very beautiful. The queen herself has commanded it."

"Which queen?"

"The Queen Regent…Her Grace said to me that you are a woman now, and should not dress like a little girl."
On a re-read, however, this dress is in fact rich in significance: it's a major clue to the behind-the-scenes power plays between the Lannisters and the Tyrells, a Chekov's dress that will be taken off the mantle-place and fired in the very next Sansa chapter. It's also used as a thematic signifier of Sansa's ongoing issues with puberty, although there are definitely some slightly ickiness about Sansa recounting people staring at her "bosoms" that make me even more convinced that it would have been better had GRRM simply aged up the Starks five years in the first place.
At the same time, I think the dress is also responsible for a good bit of the fan backlash in another way, that people often take a rather presentist attitude that Sansa should have seen the dress for what it was, and that the fact that she didn't immediately realize what was happening is proof that she's stupid. But if we actually look at the text, it's pretty clear that Sansa is in fact quite "wary" about the dress, who it's coming from, and what their motives are. And where Sansa goes wrong is not that she reverts back to her old  trusting self, but rather that she's so suspicious of everyone and everything that she's making it more difficult to analyze and test her suspicions and come to the right conclusions about what's going on.
Finally, the dress is also a useful indicator of the complex timing of the various conspiracies going on in King's Landing. In addition to teaching us a good deal about the political economy of high-end fashion in King's Landing – that as we might might expect in an economy where guilds predominate, the manufacture of women's clothing is organized in a mistress/journeywoman/apprentice system (which in turn shows us that smallfolk women working in the city can potentially aspire to property and influence), that dressmakers are independent proprietors with many clients as opposed to in-house servants (which makes sense given the high levels of skill involved versus relatively limited per-person demand), and that individual proprietors have multiple clients (which, given the way in which fashion trends flowed outward from monarchs to courtiers, also makes sense) – it also teaches us a lot about sequencing:
"Will they be ready in time for the king's wedding?"

"Oh, sooner, much sooner. Her Grace insists. I have six seamstresses and twelve apprentice girls, and we have set all our other work aside for this. Many ladies will be cross with us, but it was the queen's command."
First, it is vital that Cersei acts before Margaery becomes Queen. On a personal level, it would give her rank and and precedence over Cersei herself, but for House Lannister it would potentially allow Margaery to make decisions about the composition of the court and the disposition of its ladies (including Sansa) or at least appeal directly to Joffrey – any of which would complicate Tywin's plan, which after all hinged on the Tyrells having to accept a fait accompli rather than provoking an outright conflict with his new partners. Ironically, this danger exists because Cersei advanced Joffrey to the Iron Throne ahead of his normal majority in order to deal with Ned Stark, and then completely failed to establish her authority as Regent in the aftermath. Second, it's also vital that Sansa be married off before the Tyrells know about it, because (contrary to what Cersei will say in the next Sansa chapter) there's a lot of ways the Tyrells could have interfered with Sansa's marriage to Tyrion/Lancel had they known ahead of time, from preempting it with a betrothal or a quickie marriage in absentia (faits accompli work both ways), to making a public request to the King that would have forced the issue instead of allowing Tywin to side-step it, to spiriting Sansa out of the city in a deniable fashion.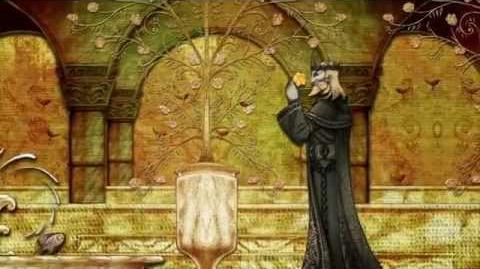 The Tyrells: Lannisters With Flowers?
Nine hundred words later, that's enough about the dress: let's talk about the Tyrells. Now that she's given useful intelligence and shown herself amenable to their proposals, Sansa is now encouraged to come ever closer to the center of Tyrell influence, to enter into a world of women that she hasn't had much opportunity to be a part of:
Margaery's kindness had been unfailing, and her presence changed everything. Her ladies welcomed Sansa as well. It had been so long since she had enjoyed the company of other women, she had almost forgotten how pleasant it could be. Lady Leonette gave her lessons on the high harp, and Lady Janna shared all the choice gossip. Merry Crane always had an amusing story, and little Lady Bulwer reminded her of Arya, though not so fierce….
As we'll see later, Margaery's "kindness" and the ladies' "welcome" is more than a little performative, intended to keep their new asset sweet. But it's also a sign of House Tyrell's subtle use of "soft power" (as opposed to House Lannister's rigid embrace of "hard power") that they understand that charm and aesthetic appeal work as both motivating factor for compliance and an illusion that can mask the instrumental nature of their actions from view, so that even much of the fandom often has a hard time keeping style separate from substance.
Speaking of which, one of the Tyrell's most potent illusions in this chapter and among the fandom is the idea that their "company of other women" makes House Tyrell a matriarchy. Certainly that's the image that Olenna Tyrell advanced last Sansa chapter, although that image somewhat runs aground on the way that Loras and Mace have directed Tyrell family policy from AGOT through ACOK. And one can see how it would especially appeal to Sansa, who's been denied female sociability, especially female sociability of her own age group:
Closest to Sansa's own age were the cousins Elinor, Alla, and Megga, Tyrells from junior branches of the House…

The cousins took Sansa into their company as if they had known her all their lives. They spent long afternoons doing needlework and talking over lemon cakes and honeyed wine, played at tiles of an evening, sang together in the castle sept…and often one or two of them would be chosen to share Margaery's bed, where they would whisper half the night away.
The "roses from lower on the bush" are an interesting bunch, both because of the ambiguous role they play in Margaery's story – perhaps they're there to act as chaperones for Margaery's virtue ("they are never alone"), perhaps they're there to act as cut-outs for covert communications ("Margaery never meets with her directly. Her cousins are her ravens, they bring her messages"), perhaps they're participants in her weird voyeuristic games, or perhaps they're just innocent highborn girls thrust into the midst of a high-stakes game of thrones.
Here, they work as mirrors for Sansa, showing how different she really is from how we first encountered her in AGOT and how much of the fandom can't stop seeing her:
Alla had a lovely voice, and when coaxed would play the woodharp and sing songs of chivalry and lost loves. Megga couldn't sing, but she was mad to be kissed. She and Alla played a kissing game sometimes, she confessed, but it wasn't the same as kissing a man, much less a king. Sansa wondered what Megga would think about kissing the Hound, as she had. He'd come to her the night of the battle stinking of wine and blood. He kissed me and threatened to kill me, and made me sing him a song.

…King Joffrey made me weep more often than you know…

…they are children, Sansa thought. They are silly little girls, even Elinor. They've never seen a battle, they've never seen a man die, they know nothing. Their dreams were full of songs and stories, the way hers had been before Joffrey cut her father's head off. Sansa pitied them. Sansa envied them.
Whatever else they may be, Alla, Megga, and Elinor are romantics, swept up in the romance of the Reach, and true believers in a way that Sansa no longer is. In comparison to Megga's crush on Mark Mullendore, Elinor's careful following of the forms of chivalric romance with Alyn Ambrose, and Alla's poetic inclinations, Sansa is practically a cynic.  After all, she has had the flimsy protections of chivalry stripped from her and knows that beautiful surfaces can hide ugly interiors and vice versa.
At the same time, Sansa can't fully pull away from the spell of their songs and dreams, because GRRM is not a nihilist. The "UnKiss" with the Hound, the way that Sansa has reshaped her own memories into something that synthesizes an often ugly reality ("stinking of wine and blood") with a kind of Beauty and the Beast romance has been written up one side and down the other. I'm more interested in what it tells us about Sansa's ongoing maturity. As much as Sansa wants to be wholly cynical, if only for self-preservation, there's a part of her that wants to believe in the romance or at least remembers how sweet it had been to believe.  And this is actually a far healthier (and more mature, contrary to how some segments of the fandom seem to think) way to live than to throw on a black dress and reduce all of existence to Machiavellian power politics.
All of these mixed emotions come together with Margaery. In the book fandom, where the depth of Margaery's involvement with Tyrell machinations remains much more of a mystery than it did on the show, there has always been a question as to whether Margaery is merely a highborn young lady of grace and virtue or whether that appearance is a mere cover for a capable conspirator.  In this chapter, Sansa is trying to puzzle this out alongside the reader, and once again, Sansa is far more suspicious than she's given credit for.
Indeed, when Sansa first gets told that she's to have a new dress, she's instantly put on her guard rather than at her ease, and even Margaery is not outside of her suspicions ("But why? Sansa wondered when she was alone. It made her uneasy. I'll wager this gown is Margaery's doing somehow, or her grandmother's.") As she spends more and more time with the young queen-to-be, Sansa is constantly balancing her suspicions against her profound admiration for Margaery's "grace." Rather than concluding that she is completely innocent, Sansa comes down somewhere in the middle: "Margaery was different, though. Sweet and gentle, yet there was a little of her grandmother in her, too."
Indeed, in this chapter, we see a good deal of Olenna Tyrell in the young queen-to-be. For the most part, Margaery is essentially acting as a handler of an intelligence asset, making sure that Sansa is kept happy (hence organizing the welcome above), but also making sure that as much as possible Sansa's mind is firmly focused on the idea of  her marriage to Willas:
The day before last she'd taken Sansa hawking…"Willas has the best birds in the Seven Kingdoms," Margaery said when the two of them were briefly alone. "He flies an eagle sometimes. You will see, Sansa." She took her by the hand and gave it a squeeze. "Sister."
Now it could be argued that Margaery's actions here don't necessarily fall within the scope of covert activity; indeed, most highborn ladies would understand the importance of making a dynastic marriage alliance work and would probably be tasked with making friends with the bride-to-be. It's only in light of later information that I'll discuss in a moment that this begins to appear more clandestine. Regardless of which it is, Margaery's efforts to shift Sansa's loyalties in the direction of House Tyrell were remarkably successful. So much so that Sansa feels compelled to speak out for Margaery's best interests:
Sister. Sansa had once dreamt of having a sister like Margaery; beautiful and gentle, with all the world's graces at her command. Arya had been entirely unsatisfactory as sisters went. How can I let my sister marry Joffrey? she thought, and suddenly her eyes were full of tears. "Margaery, please," she said, "you mustn't." It was hard to get the words out. "You mustn't marry him. He's not like he seems, he's not. He'll hurt you."

"I shouldn't think so." Margaery smiled confidently. "It's brave of you to warn me, but you need not fear. Joff's spoiled and vain and I don't doubt that he's as cruel as you say, but Father forced him to name Loras to his Kingsguard before he would agree to the match. I shall have the finest knight in the Seven Kingdoms protecting me night and day, as Prince Aemon protected Naerys. So our little lion had best behave, hadn't he?" She laughed…

She is so brave, Sansa thought…and yet her doubts still gnawed at her…the more she thought about it all, the more she wondered. Joff might restrain himself for a few turns, perhaps as long as a year, but soon or late he will show his claws and when he does…the realm might have a second Kingslayer, and there would be a war inside the city…Sansa was surprised that Margaery did not see it too.
There's a lot going on in this passage, so it's worth taking some time to unpack it in detail. First, it needs to be acknowledged that Sansa's thought about Arya being an unsatisfactory sister is a rather petty one, a sign that despite everything she's gone through in ACOK, Sansa hasn't completely matured yet. At the same time, it's not like Sansa is an unfeeling monster – hence Sansa's immediate desire to protect Margaery from harm. Second, it should also be acknowledged that Sansa's political instincts are showing signs of matury, as she makes some rather canny reads on Joffrey's inability to restrain his sadistic impulses, the likelihood of a violent response from Loras, and the political fallout that would result.
Third, this passage has made me rethink my opinion as to Margaery's involvement with the Purple Wedding. Because that last line of Sansa's is quite telling; Margaery is too canny, too good an observer of human nature, and too well-brought-up in the politics of the Reach to not come to the same conclusions about Joffrey and Loras that Sansa has. Her blasé reaction, combined by the way that she immediately pivots to the tale of Naerys and Aemon Dragonknight (and how like a Tyrell to use the history and imagery of chivalric romance as a cover story), suggests to me that the reason why Margaery is so very unconcerned about Joffrey's cruelty is that she knows that he's not going to be alive long enough for it to matter.
As to what specific role she's going to play in the whole affair, we'll have to wait for more evidence.
Ser Dontos, Gaslighter Extraordinaire
If I haven't made myself clear on this subject before, allow me to rectify that error: I consider Ser Dontos one of the most needlessly vile people of all the minor characters in ASOIAF. While there are certainly characters more muderous or sadistic, they usually have some sort of internal drive that compels their actions – Ser Dontos just has ordinary weakness and greed. But far worse than the relative lack of motivation is the fact that Ser Dontos is betraying not merely a child, but the child who saved his life (link), who whom he ought to be most beholden.
In this chapter specifically, Ser Dontos most profoundly betrays Sansa's trust by passing on the news of Sansa's impending wedding to Willas to Littlefinger, who has in turn passed on that information to the Lannisters, who have in turn initiated their plan to marry Sansa to Tyrion, with Cersei's part of that plan being the unexpected dress from the beginning of the chapter. (Incidentally, while much of the fandom treats this as a major failing on Sansa's part, as we've seen in this chapter Sansa is actually being hyper-suspicious, to the point where she overlooks Ser Dontos because of his general hapless and pathetic naure in favor of hyper-focusing on the potential threat from the Lannisters and the Tyrells.)
But Ser Dontos doesn't stop at betraying Sansa's confidence; instead, like many abusers past, present, and future, Ser Dontos works to isolate his victim by gaslighting Sansa into thinking that everyone around her (except for him) is trying to take advantage of her:
When she told Ser Dontos that she was going to Highgarden to marry Willas Tyrell, she thought he would be relieved and pleased for her. Instead he had grabbed her arm and said, "You cannot!" in a voice as thick with horror as with wine. "I tell you, these Tyrells are only Lannisters with flowers. I beg of you, forget this folly, give your Florian a kiss, and promise you'll go ahead as we have planned. The night of Joffrey's wedding, that's not so long, wear the silver hair net and do as I told you, and afterward we make our escape." He tried to plant a kiss on her cheek.

"…but he does not know you…and he will not love you. Jonquil, Jonquil, open your sweet eyes, these Tyrells care nothing for you. It's your claim they mean to wed…you are heir to Winterfell."
This passage raises a couple questions: first, how much of this gaslighting with regards to the Tyrells is part of Littlefinger's plan to isolate and groom Sansa and how much of it is part of Ser Dontos' own desires? As I've said before, I think that the Florian and Jonquil dialogue was thought up by Littlefinger as a way of appealing to Sansa's Romantic side. However, Ser Dontos' constant attempts at building on that dialogue by tyring to kiss Sansa and getting her to kiss him – which Littlefinger would very much not approve of – might speak to some incredibly creepy goals of his own whether as Sansa's lover (if Ser Dontos is merely aiming at personal gratification) or perhaps even her husband (if he's scheming for some long-term advantage).
The second question is what Littlefinger's schedule for the Purple Wedding was, and what we can learn about the divisions between Littlefinger and the Tyrells from that. As I said in Sansa VIII of ACOK, there seems to have been something of a slippage in the Purple Wedding's timing from the initial plan for her to escape "the night of Joffrey's wedding. After the feast" when half the court would be distracted "helping Joffrey bed his bride" to during the feast itself.
Sansa slipped from his grasp and stepped away from him. "I won't. I can't. Something would go wrong. When I wanted to escape you wouldn't take me, and now I don't need to."

Dontos stared at her stupidly. "But the arrangements are made, sweetling. The ship to take you home, the boat to take you to the ship, your Florian did it all for his sweet Jonquil."
Partly, I think this does speak to a difference in intent between Littlefinger and the Tyrells. Littlefinger doesn't care whether Margaery's marriage to Joffrey is consummated or not, and in fact it probably helps him somewhat because Joffrey's death would make Margaery's position more precarious. By contrast, the Tyrells are very much concerned that Margaery's hand remain available for the next King on the Iron Throne, so they act earlier – which makes Sansa's disappearance more noticeable, complicating Littlefinger's scheme.
Finally, we have to ask whether there's any truth in the argument that "these Tyrells are only Lannisters with flowers," because sometimes even liars end up telling the truth, even inadvertently or out of self-interest. Certainly, it cannot be denied that the Tyrells are hungry for lands and honors (we'll see that side of them especially in the next Tyrion chapter), and given that they're about to commit regicide, it can hardly be argued that they lack the Lannisters' ruthlessness. And since their marriage offer to Sansa is largely contingent on their foreknowledge of the Red Wedding, I think it's basically true to say that they are acting in the interests of House Tyrell and not in the interests of one Sansa Stark.
But at the same time, I think it's also fair to say that the Tyrells view the Lannisters' oft-indiscriminate use of violence, their casual violation of cultural mores, and their inattention to soft power as lacking in subtlety and craft. Moreover, I would argue that they have an entirely different political philosophy: where the Lannisters seek to overawe through domination and demand exclusive control, and where Ned Stark practiced benevolent paternalism (link), I would argue that the Tyrells' style is that of quasi-benevolent manipulation. While completely willing to prune an errant vine, the Tyrells tend to manipulate rather than attack others because they feel they know better how people ought to live their lives, in almost an aesthetic sense.
Sansa's Dream
So with all of these pressures both towards and away from the Tyrells, do Sansa's loyalties shift and how? Does she buy into the fantasy that Margaery's selling and to what extent? The situation is more complicated than one might think.
The heir to Winterfell, she would think as she lay abed at night. It's your claim they mean to wed. Sansa had grown up with three brothers. She never thought to have a claim, but with Bran and Rickon dead…It doesn't matter, there's still Robb, he's a man grown now, and soon he'll wed and have a son. Anyway, Willas Tyrell will have Highgarden, what would he want with Winterfell?

Sometimes she would whisper his name into her pillow just to hear the sound of it. "Willas, Willas, Willas." Willas was as good a name as Loras, she supposed. They even sounded the same, a little. What did it matter about his leg? Willas would be Lord of Highgarden and she would be his lady.

She pictured the two of them sitting together in a garden with puppies in their laps, or listening to a singer strum upon a lute while they floated down the Mander on a pleasure barge. If I give him sons, he may come to love me. She would name them Eddard and Brandon and Rickon, and raise them all to be as valiant as Ser Loras. And to hate Lannisters, too. In Sansa's dreams, her children looked just like the brothers she had lost. Sometimes there was even a girl who looked like Arya.

She could never hold a picture of Willas long in her head, though; her imaginings kept turning him back into Ser Loras, young and graceful and beautiful. You must not think of him like that, she told herself. Or else he may see the disappointment in your eyes when you meet, and how could he marry you then, knowing it was his brother you loved? Willas Tyrell was twice her age, she reminded herself constantly, and lame as well, and perhaps even plump and red-faced like his father. But comely or no, he might be the only champion she would ever have.

…even if Dontos is right, and it is Winterfell he wants and not me, he still may come to love me for myself.
Rather than embrace the Tyrells unreservedly, Sansa is actually quite ambivalent about the whole proposal. She's very much aware of the fact that she's being offered in marriage to a total stranger whom "she could never hold a picture of…long in her head," she's quite nervous about how she would go about building a happy marriage (avoiding showing "disappointment in your eyes" with regards to Loras,  proving her fertility, etc.), and she's quite aware that it might be the case that "it is Winterfell he wants and not me."
Rather than reject the offer as a result, Sansa tries to lean into it – for completely practical reasons. At the end of the day, "comely or no, he might be the only champion she would ever have;" as a highborn lady, Sansa needs to occupy the "honorable estate of wife" in order to get out of the exremely precarious status of being a hostage. And the same questions of how to find love in an arranged marriage would be present in any marriage pact, so it's not like those concerns are somehow unique to the Tyrells.
Instead, Sansa seeks to make the best of her stiuation and try to build a happy life for herself. But at no point does she abandon her loyalties to House Stark. While clearly not understanding the relevance of her claim to Winterfell due to her lack of knowledge of the Red Wedding, Sansa intends to make her marriage a quiet act of resistance against those who have abused her. In naming her children after "the brothers she had lost," we see an attempt to rebuild her shattered family in the next generation, to undo the work of Cersei and Tywin and the Greyjoys.  Even more so, her plans to raise them to "to hate Lannisters, too" is essentially an idea to use a mother's responsibility for educating her children to turn the Tyrells into a bulwark of anti-Lannister politics in the south.
If only her plans had been allowed to bear fruit…
Historical Analysis:
Unfortunately, there's not a lot new here in terms of historical parallels that I haven't addressed in earlier chapters, so I'm going to take a pass in this week's essay. But don't fret, Arya III will have plenty of scope for historical discussion.
What If?
There is really only one major hypothetical in this chapter, and it's a doozy:
Sansa didn't tell Dontos about Willas? I'm not of the opinion that this would have meant that her escape to Highgarden would be automatically successful – the Tyrell plan to get Sansa out of King's Landing depends on Margaery being queen, which means that there would have been about two months between Sansa II and her escape, and that's a lot of time for Littlefinger or Varys or the Lannisters to do something to interfere with her plans.
On the other hand, if it did work, things would change dramatically. First, she avoids marriage to Tyrion, which means she likely avoids connection to the Purple Wedding and being declared an outlaw. Second, she avoids Littlefinger's clutches – which might well butterfly away Lysa Arryn's death (at least for a time, eventually Littlefinger would have his revenge), and definitely short-circuits his plan to seize the North through her and and a marriage alliance to Harry the Heir.  Third, it means that her future character arc would be heading to Highgarden, with proximity to both Euron's plans and Samwell Tarly, as opposed to heading north to Winterfell and reunion with Jon Snow and other surviving siblings.
Book vs. Show:
As I've said before, the decision to cut Dontos' interactions with Sansa made this plotline much blunter and less intelligent in Season 3 – Baelish acts directly with Sansa despite the supposed danger, there's no setup for Dontos to get crossbowed as he is in Season 4 Episode 3 so his death doesn't really regiter, there's the whole unnecessary and poorly written plot with Ros' spying and death at Joffrey's hand, and it goes on and on.
Likewise, the decision to merge Loras and Willas makes the Tyrells' plotting uncharacteristically clumsy. Not only does Loras make for a comically bad suitor, but his almost immediate decision to talk about his secret betrothal to Olyvar, the only male prostitute in King's Landing, is a key part of the process by which he was turned into a "gay cartoon" in Seasons 3 and 4, and indeed as it turned out for the rest of Finn Jones' run on the show.