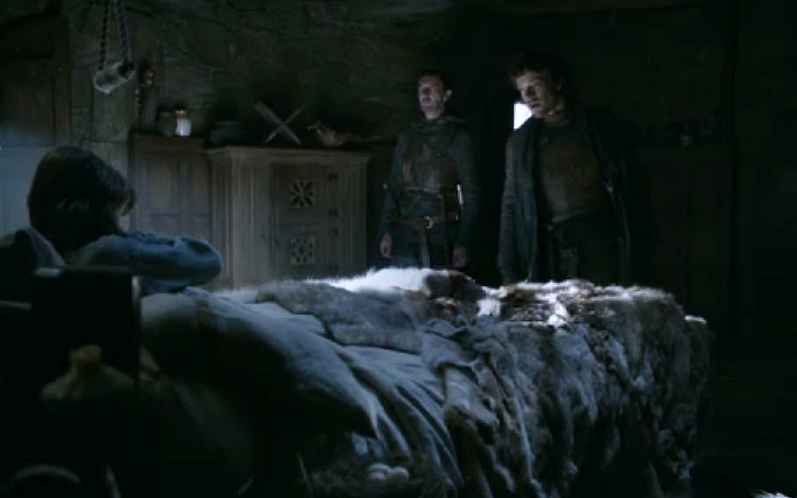 "Cruel places breed cruel peoples, Bran, remember that as you deal with these ironmen."
Synopsis: Bran awakes from a wolf dream to find that Theon has captured Winterfell, and has to formally surrender the castle to his foster-brother.
SPOILER WARNING: This chapter analysis, and all following, will contain spoilers for all Song of Ice and Fire novels and Game of Thrones episodes. Caveat lector.
Political Analysis:
As I discussed with regards to Eddard's storyline in AGOT, there's a moment in every tragedy where inevitability sets in, where the breaks fail and the rollercoaster begins to pick up speed at a sickening pace and you know that the car's going to jump the rail at the next bend. For the Starks, Bran VI is that moment – literally on the heels of victory (link), they will go from disaster to disaster, with each mistake creating the conditions for the next, until they find themselves taking their seats at the Red Wedding.
And appropriately for a tragedy, disaster strikes from an entirely unexpected direction, as Theon Greyjoy of all people captures Winterfell. And this time round reading Bran VI, I started to notice a pattern with castles in ACOK – first, Storm's End surrenders unexpectedly following the events of Davos II; second, Winterfell is captured in this chapter; and in the very next chapter Harrenhall will fall thanks to Arya's weasel soup. Given that these are some of the last chapters before the Battle of Blackwater, I'm convinced that George R.R Martin deliberately created a pattern of threes in order to prime the reader to believe that the Red Keep of King's Landing will also fall, so that the actual outcome comes as more of a surprise.
The Dream and the Nightmare
I'm not normally that keen on wolf dreams ink ASOIAF, but I found myself really liking how it's used here, because of the way that the political plot – Theon capturing Winterfell – collides with Bran's mystical storyline. Hence, the actual capture of Winterfell is seen through the eyes of a wolf:
This time the clink and scrape were followed by a slithering and the soft swift patter of skinfeet on stone. The wind brought the faintest whiff of a man-smell he did not know. Stranger. Danger. Death.

He ran toward the sound, his brother racing beside him. The stone dens rose before them, walls slick and wet. He bared his teeth, but the man-rock took no notice. A gate loomed up, a black iron snake coiled tight about bar and post. When he crashed against it, the gate shuddered and the snake clanked and slithered and held.
I'll discuss what might have happened had Summer and Shaggydog been able to intervene in the What If section, but for the moment it's interesting to see how the fractured wolf syntax complicates what's going on just enough that it's easy to miss what's actually going on here. This almost certainly a strategy by GRRM to get the reader to feel the same confusion and incomprehension that Bran is feeling is this chapter.
At the same time, we also see Bran beginning to accept that he's a warg. To begin with, there's the comedic relief moment where Bran's human side tries to make Summer climb a tree:
"He remembered how it was to climb it then….it was an easy tree for a boy to climb, leaning as it did, crooked, the branches so close together they almost made a ladder, slanting right up to the roof…The way was no way. They were not squirrels, nor the cubs of men, they could not wriggle up the trunks of trees, clinging with soft pink paws and clumsy feet. They were runners, hunters, prowlers."
It's kind of hilarious that it's this moment of all things that finally gets Bran to admit that "Jojen told it true. I am a beastling," and moreover that Jojen is a true greendreamer, "The sea has come. It's flowing over the walls, just as Jojen saw." At the same time, it comes as something of a relief, because the Refusal of the Call is the most irritating part of the Hero's Journey, and as Bran is dislodged from his comfort zone in Winterfell and forced to confront his destiny in the True North, you don't want him to be wasting his time in denial.
Why Winterfell Fell
If there is a critique I have about Bran VI, it's that George R.R Martin really has to put his thumbs on the scale in order for Theon's plan to work. After all, the scheme was so incredibly barebones that really anything could have caused it to fail:
I sent four men over the walls with grappling claws and ropes, and they opened a postern gate for the rest of us…

"They swam the moat. Climbed the walls with hook and rope. Came over wet and dripping, steel in hand." He sat on the chair by the door, as fresh blood flowed. "Alebelly was on the gate, they surprised him in the turret and killed him. Hayhead's wounded as well."
With only four men, a broken rope, a cramped leg, or even a single guard facing the right direction would have meant disaster. And yet, everything goes Theon's way. However, in order for this to work, GRRM has to throw the Idiot Ball to Ser Rodrik and Maester Luwin:
"Bran grabbed the bar overhead and pulled himself up, shouting for help. No one came, and after a moment he remembered that no one would. They had taken the guard off his door. Ser Rodrik had needed every man of fighting age he could lay his hands on, so Winterfell had been left with only a token garrison."

"The rest had left eight days past, six hundred men from Winterfell and the nearest holdfasts. Cley Cerwyn was bringing three hundred more to join them on the march, and Maester Luwin had sent ravens before them, summoning levies from White Harbor and the barrowlands and even the deep places inside the wolfswood. Torrhen's Square was under attack by some monstrous war chief named Dagmer Cleftjaw."
Especially given his complaints about how weak Winterfell's garrison was before, it's a little out of character for Ser Rorik to completely empty out its defenses, especially when he had 900 men to hand – a few dozen weren't about to make the difference. (And notably, here it's not Bran's idealism that makes the decision; the adults are the ones who fuck up) Indeed, I think GRRM kind of acknowledges what he's doing by having Luwin admit that "Ser Rodrik took too many of our men, but I am to blame as much as he is. I never saw this danger, I never . . ."
The unusual obviousness of the thumb on the scales speaks to the importance of the fall of Winterfell to the plot – not only is the capture of the castle necessary for Bran's critical moment of Crossing the Threshold, where the hero can no longer turn back and must instead pursue their destiny (think the moment where Luke comes back to find that his aunt and uncle are dead and their farm destroyed), but it's absolutely crucial for Theon's downfall and redemption, Catelyn and Robb's path to the Red Wedding, Sansa's plotline as the heiress to the North, Roose Bolton and Stannis' duel for control of the North, and so on and so forth.
Theon's Arrival
This atmosphere of confusion, wrongness, and a jarring undertone of comic relief only gets worse when Theon actually shows up. Initially, Bran thinks that Theon is still an ally, and it takes all of Theon's rhetorical power to convince the nine-year old that he's an honest-to-gods enemy:
"Theon Greyjoy followed him into the bedchamber. "We're not here to harm you, Bran."

"Theon?" Bran felt dizzy with relief. "Did Robb send you? Is he here too?"

"Robb's far away. He can't help you now."

"Help me?" He was confused. "Don't scare me, Theon."

"I'm Prince Theon now. We're both princes, Bran. Who would have dreamed it? But I've taken your castle, my prince."

"Winterfell?" Bran shook his head. "No, you couldn't."

"Leave us, Werlag." The man with the dirk withdrew. Theon seated himself on the bed. "…Winterfell is mine."

Bran did not understand. "But you're Father's ward."

"And now you and your brother are my wards. As soon as the fighting's done, my men will be bringing the rest of your people together in the Great Hall. You and I are going to speak to them. You'll tell them how you've yielded Winterfell to me, and command them to serve and obey their new lord as they did the old."
Almost immediately, Theon is striking all the wrong notes and thus, failing to intimidate a child. His insistence that ""I'm Prince Theon now. We're both princes, Bran." speaks both to Theon's desperate need for status and recognition, but also to his odd desire to have things both ways, as both a conquering Greyjoy and a friend to the Starks. Take for example his lack of response to Bran's claim of foster kinship ("you're Father's ward") and his declaration that "now you and your brother are my wards." In a world which takes the custom of fosterage very very seriously, this is a rather important commitment, and one that should make the moment where Theon is called a kinslayer in ADWD a lot more clearly. (No wonder Bran doesn't take Theon's claims of enemyness seriously) In Westeros, Theon and Bran are foster brothers, and considered just as much family as any blood brothers. Thus, the moment that Theon is seen as having killed his foster brothers in the eyes of the North, he's marked himself out as the worst kind of villain…really didn't think that one through, did he?
The Duty of a Prince
A second major theme of this chapter – which is entirely appropriate both for A Clash of Kings as a whole and Bran's story-line specifically – is the duty of a prince to his subject, which as we'll see applies both to Bran and Theon. For Bran, the question becomes what is the duty of a prince to his subject when the prince has been defeated? After all, for the entire book up until this point, we've been exploring what the virtues of a prince are when it comes to war – the importance of both personal bravery and strategic intelligence, their abilities to inspire their people to continue the fight, their responsibility to protect them from the enemy, their willingness to compromise or make peace to accomplish their ultimate objectives, etc. But is bravery still virtuous when the battle has been lost?
"I won't," said Bran. "We'll fight you and throw you out. I never yielded, you can't make me say I did."

"This is no game, Bran, so don't play the boy with me, I won't stand for it. The castle is mine, but these people are still yours. If the prince would keep them safe, he'd best do as he's told." He rose and went to the door. "Someone will come dress you and carry you to the Great Hall. Think carefully on what you want to say."

…
"Theon wants me to yield the castle," Bran said as the maester was fastening the cloak with his favorite wolf's-head clasp of silver and jet.

"There is no shame in that. A lord must protect his smallfolk."
Here, I think we see the real virtue of the Starks' philosophy of noblesse oblige – the way in which it focuses the ruler on the interests of their people, the emphasis on survival against common threats (like winter), and so on. Just as "a king protects his people, or he is no king at all," the Lord of Winterfell is a steward of humanity against the threat of death or he is nothing. (Maybe Edmure was right after all?) As painful as it is for Bran to yield up his home to the enemy, therefore, the Starks' ideology provides a framework to understand and justify what he's doing.
Theon, unfortunately, has no such luck. His entire sense of himself as a Prince is rooted in his fractured identity and his toxic inferiority complex. At one and the same time, Theon wants to be seen as a conquering Ironborn and a Stark in all but name:
…"You'll tell them how you've yielded Winterfell to me, and command them to serve and obey their new lords as they did the old…"

Theon ignored the outburst. "My father has donned the ancient crown of salt and rock, and declared himself King of the Iron Islands. He claims the north as well, by right of conquest. You are all his subjects."

"Bugger that." Mikken wiped the blood from his mouth. "I serve the Starks, not some treasonous squid of—aah." The butt of the spear smashed him face first into the stone floor.

"Smiths have strong arms and weak heads," observed Theon. "But if the rest of you serve me as loyally as you served Ned Stark, you'll find me as generous a lord as you could want."

On his hands and knees, Mikken spat blood. Please don't, Bran wished at him, but the blacksmith shouted, "If you think you can hold the north with this sorry lot o'—"

…"I will be as good a lord to you as Eddard Stark ever was." Theon raised his voice to be heard above the smack of wood on flesh. "Betray me, though, and you'll wish you hadn't."
The problem for Theon is that you can't have things both ways.[1] If you promise to be a second Ned Stark, and try to win the hearts and minds of the people you seek to rule, then you actually have to follow through and care about what the locals think and say, all the while the Ironborn will condemn you for a weakling. If – immediately after you've made that promise – you try to rule by force and crush any resistance to your rule, you might get the Ironborn to respect you, but you show yourself to the locals as a liar and a hypocrite, and to both sides as inconsistent and vacillating.  Ultimately, this is where I think Maester Luwin has it wrong when he says that "your lord father did what he could to gentle Theon, but I fear it was too little and too late." Rather, the problem is that Eddard seems to have been both not successful enough to prevent Theon from betraying the Starks, but too successful for Theon to ever really be the conquering Ironborn he wants to be – almost against his own will, and certainly contrary to his comments earlier, Theon keeps equating Eddard Stark with the way a lord should behave, but finding it impossible to live up to his example or to reject it. The result is promises broken in blood on the cobblestones.
[1] Speaking of trying to have things both ways, Theon seems to envision some bizarre scenario where "If Robb Stark can stave off the Lannisters, he may reign as King of the Trident hereafter, but House Greyjoy holds the north now," because he can't really get his mind around how thoroughly he's betrayed his oldest and best friend, to the extent that he somehow thinks that Robb isn't going to fight for his own home.
However, Theon has another problem – ultimately, even right of conquest requires the populace to recognize your claim. Even with overwhelming force, a would-be conqueror can't convert occupation to conquest without consent – as both Aegon the Conqueror and Daeron I found out when the people of Dorne simply refused to accept that they were beaten and continued to fight until the occupier gave up. And a people as famously loyal as the Winterfell bannermen are not about to turn quisling because 20 Ironborn have sucker-punched them. In this fashion, Theon's conquest is a microcosm of the entire Ironborn invasion of the North. Just as it's ultimately impossible for 20 men to hold an entire castle, 10-15,000 men simply cannot occupy a country of 3-4 million people and 1.5 million square miles.
Hell, even Ramsay Snow Reek can see that the Northmen are not going to roll over and submit, just because Theon says he's Prince of Winterfell: "Stark's lords will fight you," the man Reek called out. "That bloated pig at White Harbor for one, and them Umbers and Karstarks too. You'll need men. Free me and I'm yours." And this is where Theon's tragic blindspot kicks in, because he really should have known that a mere servant, especially one best known for corpse-raping and other signs of feral amorality wouldn't really have this good a grasp on North politics. But just as Othello can't see Iago's patent enmity until it's too late, Theon just can't see that there's something wrong about Reek until it's really too late.
Historical Analysis:
As I've talked about before, it was actually somewhat rare for castles to be taken by storm – they were generally designed really, really well, and there are many stories of relatively tiny garrisons of a few dozen men successfully holding off thousands and thousands of men. Far more often, castles would either be starved out – which tended to take a long time and be rather chancey, since smaller garrisons with prepared storehouses could more easily hold out longer than larger field armies could – or fall to treachery, as someone on the inside just opened a door in exchange for their safety and a big sack of cash.  But sometimes, castles would fall by stealth.
See, the downside of having a small garrison that can outlast a larger army outside is that you can potentially send a small force of people to sneak inside the castle and open a door, also probably in exchange for a big sack of cash. It's incredibly risky – in that you've got some very tall walls to climb, there's not a lot of doors and they're very heavily defended, and if you get spotted, you don't have anywhere to run to. The main question in any attempt to take a castle by stealth was whether you could get to a gatehouse and get a door open before the garrison can find you and stop you.
But it did happen, and indeed, was something of a specialty of the Scottish during the Wars of Scottish Independence in the 14th century, in part because they didn't have the equipment or the money for regular sieges. In 1308, Forfar Castle was taken on Christmas Night, by the simple expedient of leaning ladders against the walls as the garrison enjoyed their holiday cheer a bit too much (indeed, a lot of the Bruce's victories in taking castles by stealth coincided with holidays which left English garrisons distracted if not outright inebriated) – which ended when the Scots slaughtered the garrison in their beds and Robert the Bruce ordered the walls pulled down and the wells poisoned, to prevent the castle from being re-garrisoned. Earlier that year, the Bruce took Douglas Castle by tricking the garrison into sallying out to raid a supposedly undefended baggage train. At Berwick in 1212, a daring attempt to scale the castle walls at night with rope ladders was foiled by a barking dog – shades of the direwolves there. At Linlithgow Castle in 1313, the Bruce used a wagon packed with soldiers hidden under the hay to jam open the castle gates and then sneak out and attack the garrison.
So if you ever need to take a castle by stealth, I recommend waiting until Mardi Gras.
What If?
There's so many different ways for Theon's plan to fail that it's kind of hard to pick between them – a broken rope or two could have easily meant death for most of his climbers, given that we're talking about a fall of eighty feet or more, and at the very least, enough noise to alert the castle's defenders. A man on the right (or wrong) section of the walls at the right (or wrong) time could have easily meant that the sneak attack was spotted, and it's not hard to simply cut grapnels and leave Theon's men stranded outside the walls. Hell, if Alebelly had been facing the right direction, he could have just dropped the portcullis and left the intrepid climbers staring at the iron bars without any solution. My favorite by far, however, is if Summer and Shaggydog had been less penned up and able to run free in the inner courtyard, it's quite possible that, like a much more lethal version of the Capitoline Geese, Theon's invasion might have ended up inside the bellies of two growing direwolves.
In this scenario, Theon's kind of screwed. He's stuck outside the walls with only 16 men, and Ser Rodrik is out there with 900 men and is going to be rushing home pretty soon, and Dagmer Cleftjaw is his only ally within hundreds of miles and he's only got 200 men. It's quite likely in this scenario that Theon is going to get captured, and find himself even more the laughingstock of the Ironborn.
But as we've talked about, if Winterfell doesn't fall, ASOIAF's plot kind of falls apart. Catelyn doesn't free Jaime, Robb doesn't have to march North and thus doesn't need to cross at the Twins or reconcile with the Freys, chances are the Red Wedding doesn't happen, Bran doesn't have the opportunity to leave Winterfell, cross the wall, and study under Bloodraven to some greater purpose we won't learn until TWOW.
Book vs. Show:
As I've mentioned before, I think Theon's storyline is one of the real gems of Season 2, with Alfie Allen's flawless performance shining through, but also some great character work with Gemma Whelan, Isaac Hempstead-Wright, Donald Sumpter, and Ron Donachie.
However, if there is one weakness, it's leaving out Ramsay-as-Reek. While Ralph Ineson does his best, you don't get the full impact of Theon's fall from grace without having Reek at Theon's shoulder urging him on to kill Bran and Rickon, offering to help him when the Northmen form outside the castle, and then the sudden turn against him. There's a kind of retroactive horror that sets in when you realize where all of this Reek identity is going and the implications of the flaying, that might not have worked on initial airing, but would really have paid dividends later on, when binge-watchers would have gotten the payoff by seeing Reek turn into Ramsay and then turn Theon into Reek.
Indeed, I wonder if introducing Ramsay as Reek in Season 2 could have avoided or strengthened Theon's rather circular plotline in Season 3.